WOW Again what a great month of Perfect Fall Blocks. You all used your creative instincts when choosing colors and fabrics. The Fall colors are Brilliant!!!!! Thank you for sending me Pictures of the Fall Beauty surrounding you. I Live my Fall through you



CONGRATULATIONS go to - - -
Purrfect-Lady - - Mary - YEA!!! 9 blocks; 2 FQ and strips
TeresaK - Teresa - YEA!!! 8 blocks; 2 FQ and strips
Valerie it looks like the hand of the Picker heard your desires and mine. I'm looking forward to seeing your Blue's Quilt.
Maryz - I'm also looking forward to seeing this quilt when you finish it.
I LOVE Fall colors and have always wanted to make this quilt block and now a quilt from all the PRECIOUS Blocks.
THANK YOU ALL AGAIN!!!!!!
HAPPY HALLOWEEN!!!!!
++++++++++++++++++++++++++++++++++
The Leaves are definitely becoming more brilliant in colors and I FALL in love with them every year



So we will be making a block that has been asked for ...
BLOCK: 12.5" Autumn at the White House (SCRAPPY): It is in the FREE PATTERN section at the top of the Home page here at QIAD.
PLEASE MAKE A TEST BLOCK to find your Quarter Inch. My usual spot was off.
* Each section should measure 3.5" before you sew them all together.
* Take into consideration the thickness of the thread you use.
* IF you are making the Pinwheel in the center 1st and then adding the sections on the sides your pinwheel MUST measure 6.5"
FABRICS: Any FALL Brilliant PRINTs
BACKGROUND: SCRAPPY Light/Medium TAN TOTs or Tans with tiny prints. We want the eyes to go to the brilliant colors and not to the background.
This is just a trial block for me. The next next blocks I make will be SCRAPPY.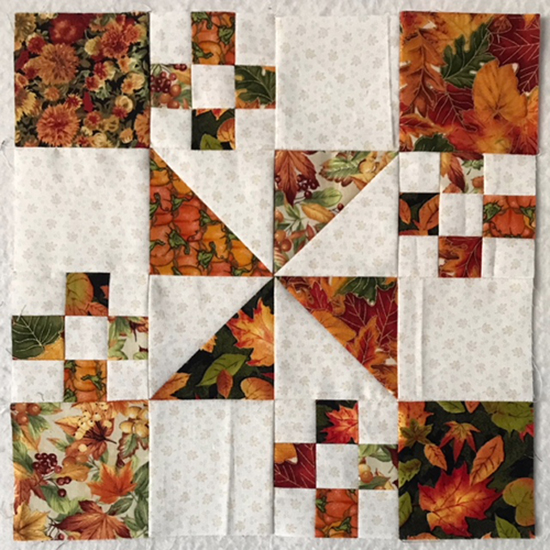 BEFORE MAILING - - -
* Attach your Address Label PLEASE to the FRONT CORNER
* Place ALL blocks in ONE LARGE BAGGIE.
* PLEASE add $2-$3 to help with Shipping to the WINNERs
DIFFERENT WAYS to RECEIVE your WINNING tickets …
* 1 ticket for each block
* 3 extra tickets if you send a coordinating FQ
* 3 extra tickets if you send 3 - 2.5" WOF strips
Any questions, please text me 661-435-8776 or post here. Many will be able to answer quicker than me as I am on the West Coast and wake up later.
MAILING -
purrfect-lady - Mary ... 6 blocks
Maryq - Mary ... 4 blks; 2 FQs, 5 Strips
TeresaK - Teresa ...5 blocks; 2 FQs, 5 Strips
WeSignificant - Valerie ... 2 blocks
Bampish - Pam ... hoping to find the time. Haven't heard from.