Welcome to the new Quilt in a Day community pages. Please use your old username and password to log in. If you forgot your password, you can reset it from the log in page. If you have questions about how the new board works, try the FAQ link above.
Posts: 10310
Joined: Wed Jan 27, 2010 3:56 am
50 minutes till zoom starts!

Tina
---
Posts: 135
Joined: Sun Jun 24, 2012 5:57 pm
Thanks so much to my SS Cindy Brown in Nebraska, I open my box couldn't wait any longer, I got 3 jelly rolls plus a book with patterns to use them with. Also a beautiful tablerunner that was hand pieced by English paper piecing and machine quilted that is really gorgeous, the color will go with alot of different decos plus a tin filled with clips which I use alot and was thinking about ordering more, thank you Cindy and from the card you sent it sounds like your life is wonderful to able to spend time with family in Nebraska is a great life. KathyR
You do not have the required permissions to view the files attached to this post.
---
Posts: 12155
Joined: Sun Jan 21, 2007 5:23 pm
Hi Gals,
I've finally turned off the sewing machines for the day so I'm going to crash here in a few but wanted to post a few pictures....
First.... This is from Judi
Kathy R was her Santa this year, and I think Judi thinks been spoiled! (Aren't we all???))
Next,..... Lois asked me to post her gift from her Santa.. who just happens to be ME! It was so fun putting stuff together for Lois and I so hope she enjoys the things packed in her box.
Next up is me: Teresa was my Santa and Man=-oh-man did she fill up a large flat rate box... so many fun things to list if I can remember them all: Great packages of FQ's and 1/4 yard cuts of my favorite colors, and some Christmas fabrics too! Two new Big spatula's---great for the baking I hope to do soon. There was a bowl cozy for my soup (or maybe my ice cream!) and a hot pad and mitt! Also included was a cute little book that plays music when you hit a button on the page... nice quiet calming music.! And a MSQ puzzle and some goat milk soap and note pad! That box was crammed FULL. But, I'm most excited to clean off my 2 end tables and set up the beautiful matts Teresa made in perfect colors for my living room! That will be a tomorrow project! SO Thank you SO much Teresa for all the lovely gifts!
The place matts:
https://i.postimg.cc/wTSYBRJX/D532-E624 ... 215-CB.jpg
A special Thank you to Tina for taking over Secret Santa. You Rock girlfriend!!
---
Posts: 8701
Joined: Sat May 05, 2007 4:08 am
Thank you Judi.......you were a drear Santa.
I just opened my box on Zoom. I'm Skyping in a few minutes with DD!

will post again after that. thanks
---
Posts: 6136
Joined: Mon Jul 16, 2007 5:36 pm
I opened my box on zoom. Izzy was my Santa. She made me a beautiful runner and 4 lodge place mats. She also gave me a book and sheep( I think the sheep is to represent the goat LOL ) and a bundle of fabric. Thanks you Izzy. I will be using the runner and place mats soon as the holidays are over. They will look great with my decor. Merry Christmas

You do not have the required permissions to view the files attached to this post.
---
Posts: 9852
Joined: Sun Feb 10, 2013 12:44 pm
What a sneaky Santa
I had
Tina was my SS
I got the most stunning southwest placemats with beautiful kokopelli bear and wolf appliqué I can't wait for Christmas decorations to come down so I can put these on my table
Oh the beautiful runner for my piano the fabric is fabulous
just stunning man your shops have great selection nothing like that here
Also some awesome hand quilting supplies and FQ and patterns. I love it all you really spoiled me
Now let's see if I can post these pictures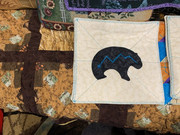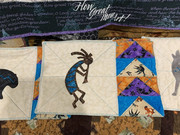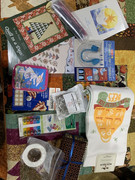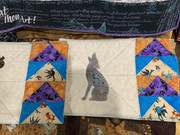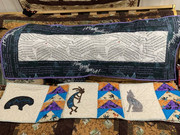 [/img]
Here is direct link too
https://postimg.cc/gallery/t9BZV8k
izzy
---
Posts: 10310
Joined: Wed Jan 27, 2010 3:56 am
Yay Izzy, I'm so glad you liked all your things! ❤ I had so much fun making your placemats and the runner for your piano. The placemats applique part is a pattern a lady about 60 miles from me designed, she's at my favorite quilt shop in Silver City, NM. The fabric for your piano runner is a really awesome little Etsy shop!
Tina
---
Posts: 1062
Joined: Wed Jul 05, 2017 8:47 am
My O my I wondered who my secret santa could be . Well low and behold it was Maryz.
And boy did she spoil not only me but my critters as well,2 packages of treats arrived one for my kitties and one for Barnabee. For me a package of candy.
Fabric included a 2 yd cut of purple fabric covered in FLOWERS and a charm pack by Riley Blake called GARDEN GIRL. I believe theres a theme going on here. LOL And for my other hobby reading a mystery novel .
A White house GARDEN mystery.
LOL I do believe someone knows I love to garden.
Now for my sewing goodies There was 4 patterns a seam ripper a package of sewing machine needles and a fabric marker all of which I need.
For my personal use a package of kleenex in a cute fabric holder and and some emory boards.And a notebook.
And for the Cake topper a set of 4 place mats. The cutest darling scarcrows you will ever see. These place mats come with a pocket and napkins inside.
O Maryz your presents are wonderful.
Thank you so much
Katy
PS I am sending Tina picture to post of all my SS goodies and hopefully a picture of Barney.
---
Posts: 9852
Joined: Sun Feb 10, 2013 12:44 pm
Vinea so glad you liked them I swear I loved that table runner and mats I laid them on my big country table and dh was like ooo those are pretty cool then I had to say they were a gift he was like make them something else
izzy
---
Posts: 10310
Joined: Wed Jan 27, 2010 3:56 am
Here are Katy's pics of her SS gifts from Maryz and a pic of Barney
Tina
You do not have the required permissions to view the files attached to this post.
---