MERRY ALMOST CHRISTMAS!!!! We had a wonderful turnout of Christmas Blocks. THANK YOU all for making this wonderful block. I know it was a bit of a tackling but they all came out BEAUTIFUL!!!!
They will make a beautiful quilt! We had 19 blocks so I decided to pick 2 Winners of 9/10 blocks each.
I went to decorate the Church this morning and brought the basket of tickets for the winners to be picked by others. THE LUCKY WINNERS are ...
WeSignificant - Valerie ... will be sent to her SS



TeresaK - Teresa ... I am sew EXCITED to play with this block. Who knows who might receive it when I am finished. Might be next years SS

CONGRATULATIONS!!!!! Hope to see Pictures of Playtime. MERRY STITCHING!!!!
*********************************************************************************************************************
WELCOME ALL!!! I predict a MERRY November!!!! Time to be THANKFUL and ENJOY the HOLIDAY Season with your Friends and Family. EVERYONE is WELCOME!!! So come join the FUN!!!
THIS is the LAST MONTH of the YEAR to able to SURPRISE your Elf with some WINNING BLOCKs!!! Please PM me for it to be a SECRET!! If you WIN your blocks will be sent to your ELF.
* This is NOT a SWAP. It is a place to practice and enjoy making new or old blocks and luckily WINNING enough to make a FABulous QUILT!!!!
* Sign-ups let me know who wants to enjoy stitching some blocks unless Life Happenings get in the way.
* COMMUNICATION is the Key. There is NO stupid question so please ask away and let everyone know how you are doing.
BLOCK: 12" Disappearing Hourglass - Crazy Eight - MAKE A TEST BLOCK, please.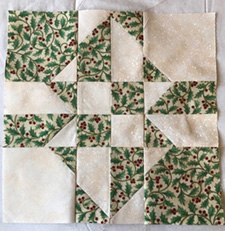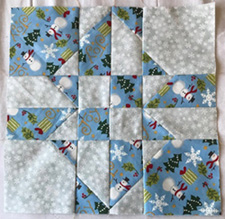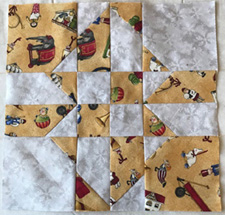 DIRECTIONS:
https://d2v8skpstyl8bm.cloudfront.net/D ... -Final.pdf
https://www.youtube.com/watch?v=a124Y6Ho51o
Fabrics - Definitely CHRISTMAS Prints
Background: Christmas White's, Creams, Grays. Polka Dots with tiny colors, Stars, Swirls
BEFORE MAILING - - -
* CHECK YOUR MEASUREMENTS - Blocks must be able TO BE Squared to 12"
* PLEASE DO NOT Square up your blocks.
* PLEASE add your Address Label to the FRONT Corner of each block
* Place ALL blocks in ONE LARGE BAGGIE.
* Please ADD $2-$3 (depending on how many blocks you send) to help pay for shipping to WINNERs
WAYS to RECEIVE your WINNING tickets ...
* 1 ticket = Let me know you are interested
* 1 ticket = for every 12" NON-Squared up blocks
* 1 ticket = Post a picture of your FIRST block
* 2 tickets = Be a SECRET SANTA
* 2 tickets = Post a TRACKING NUMBER by November 22nd
MERRY STITCHING!!!!
IN PROCESS - - -
Oasis - Linda ... 2 blocks
MAILED - - - -
RECEIVED - - -
TeresaK - Teresa ... 3 blks
Maryq - Mary ... 5 blks
Purrfect-Lady - Mary ... 4 blks
MaryGoRound - Mary ... 3 blks
WeSignificant - Valerie ... 4 balks
If you have any questions, please ask