Good morning,

We have rain at the moment but it should stop before my walk. And then I think we're to stay dry through the weekend! Hooray! You have to be careful what you pray for!

Yesterday was nice with my friends and lunch came out fine. And I even had time to play some with my lemurs before and after lunch, I found some more mistakes (on EIGHT of them!!) so I had to do some frogging and fixing. I've since found one more mistake - I transposed the ears on a ninth one so I had to take that block apart, too, and fix it. This morning I'm going to lay them all out and scrutinize them closely and also take a photo with my phone. Things always look different through a camera. I hope to get the top sewn together today. I have nothing else on tap and Bill will be gone most of the morning helping friend, Tex. I'm going to sew, baby, sew!

TINA - Dogs don't like newspaper (though who has that anymore?!). We covered our furniture with opened sheets of newspaper or some other large paper (brown postal wrap?) or aluminum foil to keep the dogs off. (It's the crinkling sound they don't like). Doesn't work for cats, though. They LOVE to lay on paper! lol! We have fabric furniture. I don't like sitting on leather. And cats have claws that scratch leather. Riley ruined the "leather" loveseat in our trailer because she was old and couldn't make the jump and had to claw her way up. So we got rid of it and replaced it with two small fabric recliners. They snag a little but not nearly as bad as the leather. So that's our pet/furniture story.

LORI - what does it mean to go on a sewing room tour? Do you all visit each other's sewing rooms or is there a specific sewing room(s) you'll tour? We order our thread from Superior, too. And it's still called Superior, but it's been sold - I think to Keepsake Quilting, but I wouldn't put money down that I'm correct on that. We've found that their Magnifico is REALLY nice for quilting. At least our LA Nolting loves it. Different machines seem to like different threads.

CAROL - I did make a little tote to carry around the entire Nativity set. I made it to size just for the set. I'll try to share a photo of it. So if you don't see that picture, come back later. I'll get to it soon. And I do love the idea of including a little book of the Nativity with the set! When my little sister and I were born, we were the unexpected "trailers" in a family that already had 4 teenagers. I can remember when we were small acting out the entire nativity, just the two of us, for the family when celebrating Christmas at my older brother's house. I'm almost sure they thought we were the cutest! lol!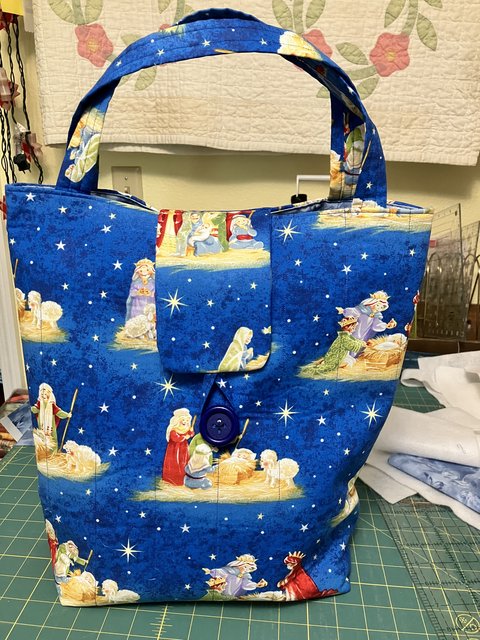 BECCA - I love a fruit sauce with pork roast. I often make a whole berry cranberry sauce with our pork roasts. I know what you mean about losing pets. It hurts. Snickers has been gone for 10 yrs now and I still cry when I think of him. But when we got him, I was still crying over the loss of Misty, Shamrock, Tango, Slippers and many more. And Snick turned out to be the Dog of dogs in our hearts. And Scottie has helped to heal the hole he left. I will always have a dog and a cat. Though like Tina says, they are a luxury these days, if you take good care of them, but to me, they are a necessity of life. Even though there are those days . . . . . Yesterday I was offered 4 little orange kittens - but I resisted!

For our supper tonite - it's more leftover pork roast. Not sure yet how I'm going to fix it. BBQ'd pork sandwiches? Pork with gravy? Pozole? I'll have to think about this.

What's your plan?