Welcome to the new Quilt in a Day community pages. Please use your old username and password to log in. If you forgot your password, you can reset it from the log in page. If you have questions about how the new board works, try the FAQ link above.
Posts: 11136
Joined: Thu Jan 25, 2007 5:43 pm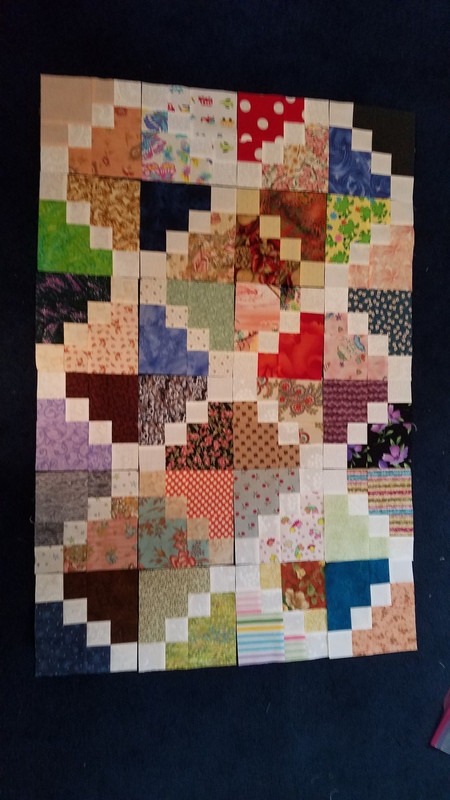 My first 24 blocks. Just checking color placement. Trying not to duplicate fabrics.
Have a great day! Valerie
---
Posts: 17126
Joined: Sat Jan 06, 2007 6:58 pm
Valerie, I love that block. It's very versatile. You could do placement many ways. Looks like a fun project.
Lori

---
Posts: 30162
Joined: Fri Sep 28, 2007 2:46 pm
It's gorgeous Val. I really love it
---
Posts: 6145
Joined: Fri Jul 18, 2008 10:46 am
Wow, that is awesome. You said this was the first 24 blocks. How many will there be in it? What size are the blocks?

Mary/Rosebud
---
Posts: 11136
Joined: Thu Jan 25, 2007 5:43 pm
Mary blocks are 6 1/2 inches. I will keep going until I run out of fabrics. I am up to 32 blocks and just cut 4 more. I would like to get to at least double size bed. I am duplicating the light but not the colors.
Have a great day! Valerie
---
Posts: 1567
Joined: Sat Aug 30, 2014 3:37 am
What a happy looking top, brightens the mood of today. Have fun, you go girl!
Diane
---
Posts: 10619
Joined: Thu Mar 04, 2010 2:30 am
Valerie Your top is so eye catching I love the bright colors & it's a Great block Becca
---
Posts: 9420
Joined: Sun Feb 10, 2013 12:44 pm
cute and a great way to use up some stash for sure

love it

izzy
---
Posts: 6094
Joined: Thu Sep 06, 2012 11:52 am
Beautiful! Thanks for sharing.
Vel
---
Posts: 19071
Joined: Thu Aug 30, 2007 5:47 am
Valerie, I love your blocks. Such nice colors!
---