Welcome to the new Quilt in a Day community pages. Please use your old username and password to log in. If you forgot your password, you can reset it from the log in page. If you have questions about how the new board works, try the FAQ link above.
Posts: 31478
Joined: Fri Sep 28, 2007 2:46 pm
This was from a swap I hosted a very long time ago. It measures 80x80 (plus or minus)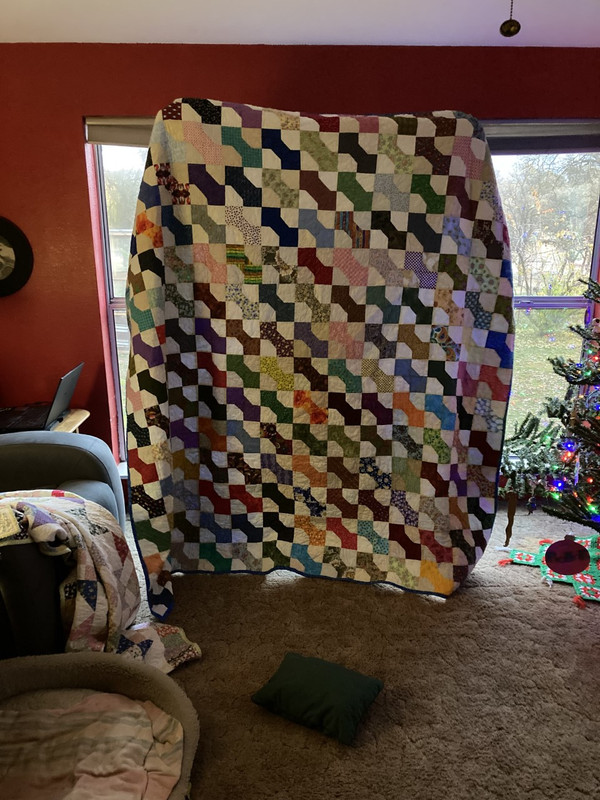 Worry is a down payment on a problem you may never have
---
Posts: 18123
Joined: Sat Jan 06, 2007 6:58 pm
It's wonderful Chriss. You made extra blocks.
Lori

---
Posts: 10285
Joined: Wed Jan 27, 2010 3:56 am
Wow Chriss that's a great quilt! Yay you for getting it all finished! It makes you feel so good to get them finished huh
Tina
---
Posts: 4738
Joined: Sun Feb 10, 2008 5:21 am
Great quilt Chriss! You did a great job.
Lyn
---
Posts: 15191
Joined: Mon Dec 29, 2008 6:42 pm
Wonderful quilt! You did a great job!
---
Posts: 12780
Joined: Thu Jan 25, 2007 5:43 pm
I remember that swap. Great job
A Friend is God's way of making sure we never walk alone!
---
Posts: 12720
Joined: Sat Jan 13, 2007 10:25 pm
Chriss that came out good


Lois
---
Posts: 42
Joined: Fri Sep 02, 2022 2:01 pm
Chriss, your quilt is so beautiful. You did great jobs. Love it!

Denise
---
Posts: 22009
Joined: Mon Jul 07, 2008 4:01 am
CHRISS - this is a great quilt! How did this post get by me? I saw the one that Moose was modeling. I loved doing this swap. Glad you finally had time to get it finished and "in the can" - or shipping box. It's beautiful and I know Richard will love it! And love, even more, that his mom made it for him!
---
Posts: 8108
Joined: Sat Feb 16, 2008 3:34 pm
Good job Chriss! If it is RWB I have one also that I made so you must have blocks made by me. I love the quilt. It will be a great gift for your DH.

Carol
---