Welcome to the new Quilt in a Day community pages. Please use your old username and password to log in. If you forgot your password, you can reset it from the log in page. If you have questions about how the new board works, try the FAQ link above.
Posts: 9707
Joined: Sun Feb 10, 2013 12:44 pm
Using up fabric scraps so many blues lol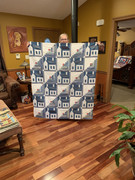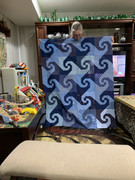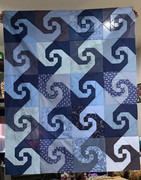 [/img]
https://postimg.cc/gallery/kJ4zfFv
izzy
---
Posts: 17719
Joined: Sat Jan 06, 2007 6:58 pm
Izzy, really nice. Love the blue houses and log cabin.
Lori

---
Posts: 12082
Joined: Thu Jan 25, 2007 5:43 pm
Very nice Izzy, blue is DH favorite color
A Friend is God's way of making sure we never walk alone!
---
Posts: 30888
Joined: Fri Sep 28, 2007 2:46 pm
I love them both Izzy, so cool
---
Posts: 12347
Joined: Sat Jan 13, 2007 10:25 pm
Izzy both are beautiful you did such a great Job.

Lois
---
Posts: 21276
Joined: Mon Jul 07, 2008 4:01 am
Izzy, your quilts are beauties! I love them both! Snail Trail and Log Cabin are both favorite blocks of mine. You whipped them out so quickly! Great job!

mary z
---
Posts: 9833
Joined: Wed Jan 27, 2010 3:56 am
These are great! You sure got them finished quickly! Great jobs
Tina
---
Posts: 7132
Joined: Thu Sep 06, 2012 11:52 am
Wow those are very beautiful!
HUGS,
Vel
---