IT IS TIME NOW!!!! We all had a great month bringing in the new year with this FUN block that you can do so much with. Whether you make this quilt or a table runner ... the list is endless. THANK YOU all so much for joining and creating some wonderful blocks to play with and now let the winners play and create something FUN to be Loved and Hugged. DRUMROLL PLEASE .......
The 3 Winners of 6/6/5.75 blocks each .............................
** We-Significant - VALERIE
** Maryq - MARY
** MePeace - Katy
CONGRATULATIONS!!!!!! Pictures Please down the road

Happy New Year!!!! I am amazed that tomorrow is New Years Eve! Definitely time to say Bye 2020! And seriously 2021 we don't want any trouble from you! Wishing you a Happy, Safe, Smart, Healthy, Peace of mind, Enlightenment of the Soul and HUG-FILLED 2021 NEW YEAR



We will open the Year by stitching up 2 blocks from Quilt in a Day's Pattern - Patches of Life.
You will be stitching a Set of 4 (2 of each blocks) How many sets will be up to you. Do you want to WIN?
** Fabrics for 6.5" - 9-Patches will be SCRAPPY

Just think all rainbow colors in Prints and ToT's
** Fabrics for the 6.5" HST's will be Blue (if you have, otherwise any color) and White on White ToT's
I still need another 9-Patch block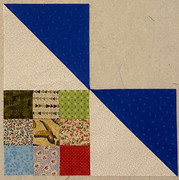 MAILING - - - - Please PM me if you DO NOT have my ADDRESS
* Attach your name label to the upper FRONT corner of EACH set of 4 blocks pinned or stitched on the corner.
* Send ALL sets of 4 blocks in one baggie
* Mail blocks with a TRACKING # as soon as possible.
* For every month could you please send $3 to help send the WINNING Blocks to the WINNERs
WAYS TO EARN TICKETS - - - - -
* 1 ticket = Sign-up anytime to show your interest
* 1 ticket = for EVERY set of (2)HSTs and (2)9-Patch Blocks
Shelley322002 - Jacquie ... 4 sets (and my Mini - Such a sweetheart!!!!)
WeSignificant - Valerie ... 4 sets
MePeace2 - Katy ... 2 sets
TeresaK - Teresa ... 2 sets
Maryq - Mary ... 5 sets; 2 Hst's; 1 9-patch