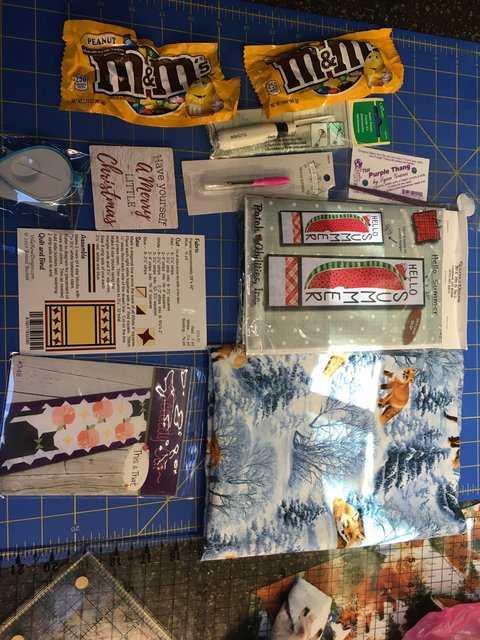 My Santa was Lyn! And she really spoiled me. I got two seam ripper's, a table runner pattern called "scaredy-cat" by This & That with a pieced black cat on each end and four pumpkins in the middle. How did she know I love Halloween sewing? I also received a Purple Thang, a Christmas magnet, a needle keeper, A complete kit for a watermelon wall hanging/table runner called "hello summer" by Patchabilities, and three packages of M&M peanuts, two of which disappeared quickly. Last but not least, a half-yard of timeless treasures fabric - Beautiful foxes in the snow. As it happened, at the time I opened my gift I was sewing with fox fabric from that same line! ( I have a thing for foxes as we have an Arctic Fox fifth wheel.). I plan to make placemats.
Thank you so much, Lyn! You sent me many treasures but none so wonderful as your friendship! Thank you so much and have a healthy and happy Christmas.
And many thanks to our Mary Q. Three cheers to her for always hosting this fun event for us all!! We love you, Mary!