Hello Everyone -
I am tickled Christmas blocks from the top of my head to the tip of my toes.
Jacque's January blocks arrived on Friday. I was so excited thinking they were Christmas when in fact they were for January. Well it seemed that her December blocks hitched a ride and arrived on Saturday. YIPPEE!!!! I was thrilled over TWICE!!!!!!! Teach me to wait one more day LOL LOL LOL!
I will mail out the blocks to the winners this week when I get all my mailings ready to go.
*************************************************************************************************************************
Happy New Year everyone. Thank you for such an outpouring of wonderfully festive blocks. These blocks have so much diversity in using them, I cant wait to see how you the winners choose to use them.
Jacque's blocks have still not arrived but she did ask that I not add her to the drawing as she won in November and wanted to share with the Winners. Jacque's you are so sweeeeeeet.
So Drumroll please..... The Hand of the Picker (Martha) chose these WINNERs! They are
Maryq - Mary (mailed to Maryz)
Gershwin69 - Tina ... and
MePeace3 - Katy
CONGRATULATIONS!!!!!!!! PICTURES PLEASE!!!
Hope you have a FABulous time Playing!!!
*********************************************************
HELLO EVERYONE and a MERRY CHRISTMAS month filled with Festivities! The LOTTO is one of them!!
WOW It is hard to believe that the year is almost over BUT FIRST we need to enjoy all the Christmas Festivities - I Chose something very quick and easy. I got my inspiration from seeing this picture on the My Creative Stitches site. Winner can make it with a blue, white or any color background. This month you will PLAY with just Christmas PRINTS - YEA!!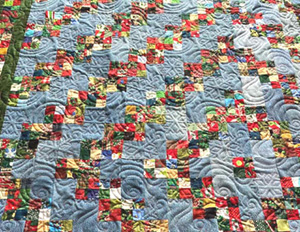 Thank You Maryq for your awesome Sample Blocks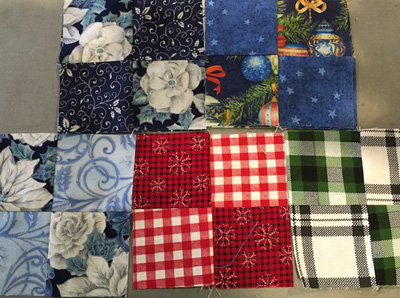 BLOCK: 4.5" 4-Patch blocks using 2.5" Strips (Make as many as you can or want to)
FABRIC: Christmas Prints ONLY - using as many different print fabrics as you can
Practice time - - -
*** When you iron please open the center 4-patch on the back of the block
*** Make sure you lock your seams, please
*** It is easier to match a check pattern with a print than another check. To many lines to match

MAILING - - Please PM or FB me if you DO NOT have my ADDRESS
* Attach your name label to the upper FRONT corner of EACH set of Blocks
* Send ALL blocks in one baggie
* Mail blocks with a TRACKING # as soon as possible while enjoying Christmas Festivities!!!
* Send $2-3 depending on how many blocks you send to help Mail to the WINNERs
WAYS TO EARN TICKETS - - - - -
* 1 ticket = Sign-up anytime to show your interest
* 1 ticket = Add a picture to the Lotto Thread
* 1 Ticket = Set of (4) 4.5" 4-Patches
* 1 ticket = for a Christmas Card "SAYING, QUOTE or POEM" that struck your Heart (Optional)
ARRIVED ———-
Maryq - Mary ... 10.5 sets
MePeace2 - Katy ... 3 sets
Gershwin64 - Tina ... 4 sets
WeSignificant - Valerie ... 8 sets
TeresaK - Teresa ... 8 sets
MAILED———-
Shelley322002 - Jacquie ... 7 sets
MERRY CHRISTMAS STITCHIN' !!!!!!!!!!!
************ A Heads Up for the New Year - You will need some Winter Blue's