THANK YOU ALL for JOINING the November Lotto. There were few of us with MANY BLOCKS made. I am thrilled for ALL 3 WINNERS for they will be making some Lovely Quilts or other items with these festive blocks and HST's!!!!!!! I had to go to Canyon Country today to do Pre-Op for my Eyes and they the nurse drew the winners


CONGRATULATIONs go to the WINNER's ... DRUMROLL PLEASE



Jacquie - 15 sets of 4 to make 15 blocks
Teresa - 15 sets of 4 to make 15 blocks
Valerie - All 44 of the HST's
***********************************************************************************************************
Thank you all for some great suggestions!!! I think we're going to go with Valerie's Disappearing 9-Patch BUT ... I am going to step it up and add Madness to the Name.
We haven't done this one so I am very excited to see all the CHRISTMAS fabrics you choose this month to make this awesome block.
The NEW TWIST is EASY!!!! When Jenny places a square on Opposite corners of the block she makes 2 stitching runs. Down, turn and stitch back. This will give you an extra HST. She uses this HST to make a table runner in the video.
*** This is another part of the LOTTO. Send these HSTs to me and I will put them together so the hand of the PICKER can draw for another Winner - YEA!!!! THRILLING!!!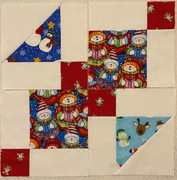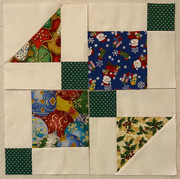 CHRISTMAS IS THE THEME
Directions - Click on link. You can also get a Digital Copy at Missouri Star Quilt Co.
https://www.missouriquiltco.com/shop/de ... souri-star
FABRIC:
CENTERS: Red, Green, Gold, Blue
COLORS: CORNERS
CHRISTMAS Prints - What do you think of when you think Christmas - Gingerbread, Santa, ribbons, chocolates, dolls, cats and puppies ...
INSIDE
BACKGROUND: White Soft WOW patterns especially Christmas or if you can't get to a shop or order online then please use Kona Cotton white.
*** There are many white colors. Please check to make sure you use the whitest or YES - YEA now you have a reason to go shopping online it to your local JoAnns. Again check for the whitest one.
WHEN YOU ARE FINISHED - - -
* Each of the Blocks are = 6.5"
* Please MEASURE to check the block size - BUT DO NOT SQUARE THEM UP
* Make sure you correct any seams that are off before you send.
* Attach a name label to the FRONT TOP CORNER
*** BLOCKS are DUE TO ME by FRIDAY the 30th. Please mail with a tracking if you can.
WAYS to EARN TICKETS
* 1 ticket = Signups
* 1 ticket = a Set of 4 = 1 block
* 1 ticket = if you post me a tracking number by MONDAY the 23th you can still go 1st class
* 1 ticket = Share a picture of your block(s)
ARRIVED - - -
Maryq - Mary ... 8 sets
Shelly322002 ... Jacquie ... 6 sets; 12 Hst's ....... PLUS my Mini - YEA!!!!
FlorenceM - Flo ... 6 sets; 12 Hst's
WeSignificant - Valerie ... 6 sets; 14 Hst's
Teresak - Teresa ... 4 sets; 6 Hst's
Please let me know if you have any questions. FB gets to me the fastest
Come ENJOY the FUN!!!! HAPPY STITCHING!!!!!!