Hi everyone. I know I had a wonderful time this month making Bowties when I was able to. Many different fabrics choices so I am excited to see who wins and puts on together for a special quilt.
WHO WANTS TO WIN!!!!
Congratulations
go to Flo and Mary!!! Eager to see your quilts!!!!
*********************************************************
Hello EVERYONE and WELCOME to the OCTOBER monthly LOTTO!!!! We had a great time in September celebrating FALL Colors. Come JOIN the FUN and make some Bow Tie's!!!! You might need them for Thanksgiving Dinner.
Above ALL HAVE FUN but above all PLEASE Read ALL the Information provided. Thanks
I LOVE this time of year when we can connect the Lotto with FALL COLORS and VIBRANT FABRICS BUT also HOPE to WIN for our Secret Santa's if you choose. If you would like me to send your WINNING blocks to your Secret Santa PLEASE PM me with your information. This Month we will be stitching ...
Block: BOW TIE's
Colors: Vibrant Fall Fabrics
Background: Med Tan TOT's, mini prints, swirls, leaves ect... Fabrics (see pic of what I am using)
**** NO WHITES, GRUNGES or SOLIDs Looking fabrics
Pattern Instructions:
** Colors/Background TOTs: Cut 2 each of 3.5"sq Print and TOT fabric (cut a few fibers OVER 3.5")
See picture for Placement
** Same Color Print as you used above: Cut 2 1/8" squares of Print fabric (cut a few fibers OVER 2") this is a MUST
Place 1 print fabric in the corner of both the 2 background fabrics. Draw line and sew. See picture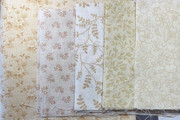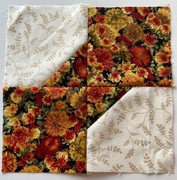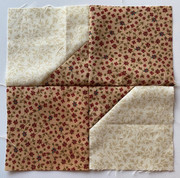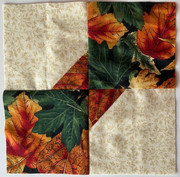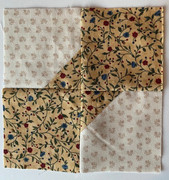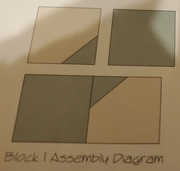 HAPPY STITCHING!!!!!!
WHEN YOU ARE FINISHED - - -
* Each of the Blocks are = 6.5"
* Please MEASURE to check the block size - BUT DO NOT SQUARE THEM UP
* Make sure you correct any seams that are off before you send.
* Attach a name label to the FRONT TOP CORNER
*** BLOCKS are DUE TO ME by FRIDAY the 30th. Please mail with a tracking if you can.
WAYS to EARN TICKETS
* 1 ticket = Signups
* 1 ticket = a Set of 2 blocks
* 1 ticket = if you post me a tracking number by MONDAY the 26th (can mail inexpensive 1 class still)
* 1 ticket = Share a picture of your block(s)
ARRIVED - - -
FlorenceM - Flo ... 29 blocks
WeSignificant - Valerie ... 8 blocks
Maryq - Mary ... 14 blocks
TeresaK - Teresa ... 6 blocks
Please let me know if you have any questions. FB gets to me the fastest
Come ENJOY the FUN!!!!