IT's PICKING TIME!!!!
Congratulations to you all for sending in some very Springtime Flower Blocks. I LOVED them all and I know you will also. These will make a very Special Quilt for a Loved one for sure.
After putting them up on the wall I saw that I could pick 2 winners for the blocks and 1 for the 4-patches. It makes a smaller quilt for a child but these blocks are so quick and easy to make you will have no trouble in making the quilt a Lap size.
CONGRATULATIONs go to - - The WINNERs are !!!!!!
For the Blocks - - Maryq and Valerie
For the 4-Patches - - Teresa (me) I am excited to use these in the same way we made January's Blocks or on point to make the quilt bigger. Thank you all for agreeing to send them in with your blocks.
I can't wait to see your arrangements of these blocks. EXCITED!!!!! Now on to MARCH. Sure hope you come see and enjoy making these BIG BLOCKs!!!! Chriss suggested them and I agreed


______________________________________________________________________________________
WELCOME Pals to the FEBRUARY LOTTO BLOCK FUN!! The Whirligig block is another quick one after you have made the first set. This is a set of (2) Mirrored Imaged 8" Blocks using a scant 1/4" seam.
Definitely a Fun one but a winsie bit harder. It is my hope that you will be able to find some time to enjoy making these blocks and possibly WINNING ENOUGH to MAKE a WHOLE QUILT plus getting to know more about your Pals. I am looking forward to seeing some New Pals join me along with all our Faithful ones.
LET's get started!!!
** BLOCK: Whirligig block - Very Easy and Quick after the first one made. USE a SCANT 1/4" seam
https://www.bing.com/videos/search?q=wh ... M%3DVDVVXX
** MAIN FABRICS: For one set of blocks you will need - (2) 2.5" x 22" FLOWERS Strips. This can be Life-Like Flowers or TOT flowers
** FABRIC BKGRD: (2) 2.5 x 22" WOW. Preferably flowers/wines. Something not to loud or busy. Maryz I hope you have some of the WOW you used in January
DIRECTIONS: My fabric is WOW. Terrible Picture. I will take one outside.
https://www.bing.com/videos/search?q=wh ... &FORM=VIRE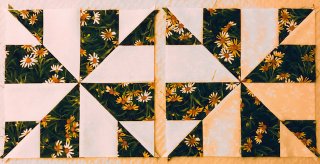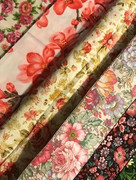 WHEN YOU ARE FINISHED - - -
* Each of the Blocks are = 8" unfinished blocks Using SCANT 1/4" seams.
* Share a picture for extra ticket
* Please MEASURE to check the block size - BUT DO NOT SQUARE THEM UP
* Attach a name label to the upper FRONT corner of a set of 2 Mirror Image "8"" blocks
* Please have them TO ME by the LAST DAY of the month.
WAYS to EARN TICKETS
* 1 ticket = Signups by 7th of February (showing of interest only)
* 1 ticket = Share a picture of your sets for an extra ticket
* 1 ticket = for each set of MIRRORED IMAGED Blocks
* 1 ticket = if your blocks reach me by the 29th
* 2 tickets = if your blocks reach me by the 26th
LET THE JOY CARRY ON!!!!
FINISHED - - - - - - -
TeresaK - Teresa ... 4 sets + (4) 4-Patch blocks
Maryq - Mary ... 6 sets
Purrfect-Lady - Mary ... 3 sets + (5) 4-Patch blocks
WeSignificant - Valerie ... 4 sets + (4) 4-Patch blocks