That is a great question and I should have looked harder when I first posted. I couldn't find a pattern so this is how I see it.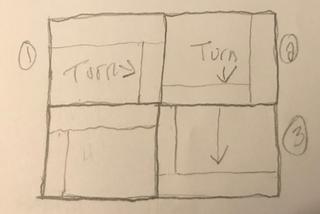 After really looking hard at the picture I believe this is the layout.
* Follow the layout if you want your pictures to go a certain way.
* If you don't care how they will lay, then make #1 - 3 times. LONG/TOP, SHORT/RIGHT because they will be turned as you can see in block 2 and 3.
* The Oddball of the Pattern is block #4. Your layout will ALWAYS be LONG/TOP, SHORT/LEFT.
BECAUSE of this oddball block - I will ask you to pin or sew nametag to the upper corner of "4" blocks put together instead of 2. This way the winners will have the right blocks for their layouts.
I know you will all do FABulously!!!!! We are ON A STITCHING ROLL!!!!!