Thank you EVERYONE for a most excellent January Lotto. A great turnout of 33 sets that make 132 blocks - WOW
After much math multiplying and divided I decided to choose 3 WINNERs that will recieve 11 sets = 44 blocks that will give you approx a 42 x 56" quilt - YEA
I sure hope I am right.
The Winners are ... drumroll please - - -
Maryz - Me - Chriss
CONGRATULATIONS
Hope to see some quilts soon
Now on to sewing with some Flowers
....................................................
WELCOME Pals to the LOTTO BLOCK FUN of 2020!! I hope you are almost ready to Ring in the New Year with Lots of Hopes and Dreams for all the projects you want to start and finish this year. It is my hope that these Plans include JOINING me this year for lots of fun, finding a New Block you really like and possibly WINNING ENOUGH to MAKE a WHOLE QUILT plus getting to know more about your Pals.
SEW - IT IS TIME to get started on this Year's FIRST Lotto Block! WOOHOO!!!! I predict it will be another GREAT Year and I am looking forward to seeing some New Pals join me along with all our Faithful ones.
*** The first block is a variation on an I-SPY Quilt. Very Easy and Fast!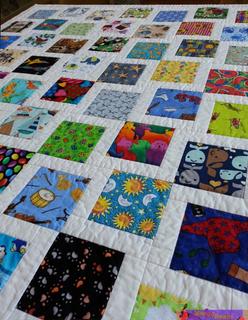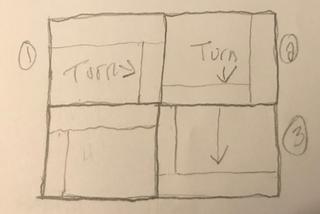 After "Spying" hard at the picture I believe this is the layout.
* Follow the layout if you want your pictures to go a certain way.
* If you don't care how they will lay, then make #1 - 3 times. LONG/TOP, SHORT/RIGHT because they will be turned as you can see in block 2 and 3.
* The Oddball of the Pattern is block #4. Your layout will ALWAYS be LONG/TOP, SHORT/LEFT.
***** BECAUSE of this oddball block - I will ask you to pin or sew name tag to the upper corner of "4" blocks put together instead of 2. This way the winners will have the right blocks for their layouts.
MAIN FABRICS: 5" Squares - Cut in Sets of 2's to add the Character of a Matching Game:
Any Season, any pictures like... a snowman, butterfly, sunflowers, Paw prints, dogs, cats, Minnie mouse, flowers, etc ... The list is ENDLESS and Kid Friendly Fun!!
FABRIC BKGRD: If you are cutting yardage cut a 2.5/8" White on White's; simple, understated designs so the I-Spy Squares take center stage. If you are using strips, please measure first and use a scant 1/4".
All of the WINNERS would love to be able to square the blocks to 7"
DIRECTIONS: SEE PICTURE For Placements
* Begin with a 5" I-Spy Square; **Sew a 2.5+" White on White Strip to the LEFT SIDE; MEASURE
* Sew White on White 7+" Strip along the Bottom of your Block. MEASURE - Finished 7" Block!
* Move to the Next 3 blocks FOLLOWING the Pattern above.
******* Pin together if it makes a pair. You will still get 1 ticket per block. Easy and Fast. Makes a FUN Quilt!!!
*** The hint for successful blocks is to Check the Measurements of your Squares and Strips and to Use Scant 1/4" seams. Froggin' (Rip-It is my least major thing to do)
WHEN YOU ARE FINISHED - - -
* Each of the Blocks are = 7"+ unfinished blocks
* See the picture for samples of I-Spy fabrics (Sooooooo Many Choices)
* Please MEASURE to check the block size - BUT DO NOT SQUARE THEM UP
* Attach a name label to the upper FRONT corner of a set of "4" blocks
* Please have them TO ME by the LAST DAY of the month.
WAYS to EARN TICKETS
* 1 ticket = Signups by 7th of JANUARY (showing of interest only)
* 1 ticket = for each block ******* Pin 4 blocks together with your name tag.
* 1 ticket = if your blocks reach me by the 30th
* 2 tickets = if your blocks reach me by the 25th
* 1 ticket = Rob and I are taking a Road Trip this year. Tell me of a place we should definitely check out

LET THE NEW YEAR BEGIN!!!!!
FINISHED AND MAILED - - - - - - -
purrfect-lady - Mary ... 5 sets
Marilynsgrammy - Chriss ... 6 sets
WeSignificant - Valerie ... 4 sets
maryq - Mary ... 6 sets
mepeace2 - Katy ... 3 sets
TeresaK - Teresa ... 5 sets
FlorenceM - Flo ... 4 sets