Good morning!!! And afternoon
We had a great month. Few pals but absolutely festive Christmas Blocks were made and sent. I am thrilled with being the hostess this month. I know some wonderful quilts will be made to be LOVED and HUGGED
I know you all have more Christmas Blocks in your stash or easy to make Blocks from your fabrics so I decided to choose 3 Winners - Yea!!!!! They are ....
LORI - KATY - TERESA
THANK YOU ALL FOR A VERY MERRY MONTH!!!! ENJOY
************************************************
Hello All!!! Mary has given me the green light to enjoy our ANNUAL "CHRISTMAS IN JULY" LOTTO BLOCK PARTY!!!! Can you BELIEVE IT??? IT IS JULY already - WOW!!!!!
* This is NOT a SWAP. It is a place to find new or old block(s), pick some Christmas Fabrics. Stitch them and send them to me to Receive tickets and possibly WIN enough to make a CHRISTMAS QUILT!!!!
* Sign-ups let me know who wants to have FUN unless Emergencies get in the way. COMMUNICATION is the Key, Please
* Block size: A variety of sizes that equal a 12.5" Block. Your choice. An assortment would really be DELIGHTFUL!!!! The More the Merrier



(1)12.5"+; (2)6.5" x 12.5"; (4)6.5" unfinished blocks. Keep separate.
* DO NOT SEND ME A BLOCK that is NOT the RIGHT SIZE, Please
This is a learning place to enjoy sewing a block, new or old, while still following the instructions of your pattern. Here is an assortment of Christmas Blocks I made extra from Years past. Dissapearing 4-Patch and Mixed 12.5" blocks. I have no idea why they are so small.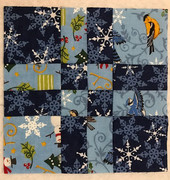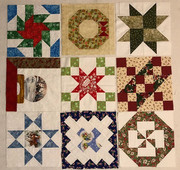 * Fabrics: Joyous Christmas Print's and TOT's. Candy Cane, Houses, Aprons, Friends, Joy, Gingerbread, Music, Colorful lights on Christmas trees, Wreaths, Inspirational Words, etc... The list is endless!!!!!
* Please TEST your fabrics to check for bleeding. A MUST!
* NO SOLIDS
* Very Light Metallics are OK BUT No GLITTER Please
* NOVELTY is PERFECT especially for Fussy cut's
* If you use a fabric like Stripes/Checks please line up the ruler on the line of the Pattern to keep it straight.
BEFORE MAILING - - -
* PLEASE MEASURE to Check that your BLOCK(s) ARE the correct sizes.
* DO NOT SQUARE
* PLEASE "Name Tag" each block in the front TOP corner and Place ALL in a LARGE BAGGIE. Mailing labels are great for this

* Please send $$ Money to help send to the winners. PayPal is OK. Free to Friends and Family
********* YES I am a stickler for Tracking #'s. THANK YOU!
WAYS to RECEIVE your WINNING tickets. I LOVE a BIG BOWL of Tickets
* 1 ticket = Sign-ups
* 1 ticket = for each block
* 2 tickets = if you make a set of each size.
* 2 tickets = if your blocks are in my hands by the 30th of July
* 1 ticket = for any Christmas Poetic bribes

Optional
CHRISTMAS HALLMARK MOVIES BEGIN on JUNE 28th - MERRY STITCHING!!!!
TeresaK - Teresa; 6 large, 8 small
Oasis - Linda; 4 large, 3 small
MaryQ - Mary; 5 large
MePeace - Katy; 6 large
Zfatcat - Lori; 3 large