Welcome to the new Quilt in a Day community pages. Please use your old username and password to log in. If you forgot your password, you can reset it from the log in page. If you have questions about how the new board works, try the FAQ link above.
Posts: 19190
Joined: Mon Jul 07, 2008 4:01 am
Teresa, Mary has been on a short vacation but I believe she said she was combining April and May (April Showers bring May Flowers, you know!) and May isn't over yet. But she started June early because so many people have travel plans and she wanted to give them extra time. If I'm wrong, Mary will straighten me out, I'm sure! lol!
---
Posts: 9150
Joined: Thu Jul 10, 2008 1:32 pm
Whew! Then I had better get my blocks in the mail!!!
Thank you Mary
---
Posts: 80
Joined: Sat Jan 12, 2019 8:47 am
Hi Ladies:

I'm going to have to pass. on the June Lotto. I have a lot of paperwork and cleaning that I need to catch up with. Darn, I would much rather be sewing! I'm hoping to have my May blocks in the mail on Monday or Tuesday.

MaryGO
---
Posts: 10353
Joined: Fri May 04, 2007 6:23 pm
I will be sending 7 blocks,( 2 of the yellow). I had a lot of trouble with Rosie's star. My points didn't work right and I used all of the white fabric. So, I will just send the one, if someone can salvage it to their liking.

Here is a picture of the blocks: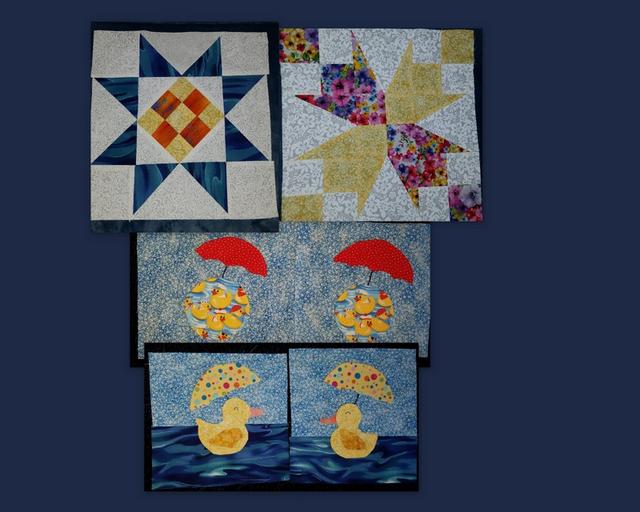 Have Fun,
Linda S / OASIS
---
Posts: 10711
Joined: Thu Jan 25, 2007 5:43 pm
Block 1 for June. Hoping for 3 more. Not sure if I will vary background or not.
Linda this block is not as easy as it looks. Hopefully by 4th I will do better
Have a great day! Valerie
---
Posts: 2884
Joined: Mon Mar 04, 2013 1:22 pm
---
Posts: 9295
Joined: Sun Feb 10, 2013 12:44 pm
Ok Im in sewing room pulling fabric. Can it be any blue??? dk lt med, with pattern OR are you wanting solids??? 9 patch is oranges and yellows. Outer setting triangles can be white, orange or yellow.
Does the white have to be solid or TOT

Sorry so many questions but I want to play. I didnt feel well in may to get anything done, Sorry but I think I can do this one
Oh and am I correct when I read this is a 9 1/2 in block. Just making sure thats correct too. My meds fog my thinking right now. So lots of questions

Izzy

izzy
---
Posts: 10711
Joined: Thu Jan 25, 2007 5:43 pm
Izzy blues should be close to color in Mary's block. 12 1/2 inch block. My white is tone on tone.
Have a great day! Valerie
---
Posts: 19190
Joined: Mon Jul 07, 2008 4:01 am
Mary, such a fun surprise I got in the mail yesterday afternoon! Beautiful, sunny blocks! Thank you and thanks to you all who sewed these beautiful blocks. I couldn't wait to play with them and it only took me 45 minutes to get them all sewn together. I hope to get borders on today. This quilt will go to our Police Department and will one day be used to comfort someone they may encounter who going through a traumatic situation. These cheerful blocks should help a lot! Thank you all!

mary z
---
Posts: 19190
Joined: Mon Jul 07, 2008 4:01 am
. Testing my photo-posting skills. Got it ready to quilt.
---