HAPPY NEW YEAR!!!!! Blocks were MAILED on MONDAY - Arriving on FRIDAY because of the Holiday. THANK YOU ALL so much for making this such a HAPPY PLACE for ME!!!!
Oasis - Linda (sending Angel Package to Flo - Thank You for being so sweet) 9505 5148 6998 8365 1091 11
QuiltGram - Velda ... 9505 5148 6998 8365 1091 04
*************************************************************
This is what we have this month - THANK YOU for NOT giving up!!!!
2 blocks, 1 FQs, Pieces of Strips to make 3 blocks
6 blocks, 2 FQs, 7 Strips
4 blocks, 2 FQs, 7 Strips
5 blocks, 2 FQs
2 blocks; 2 FQs
4 blocks
**********************************************************
23 blocks, 9 FQs, 16 strips
After thinking about it I have decided to pick 3 winners; 7,7,8 Blks
Then divide the FQs so they can make more Squares.
It was a wonderful Block to make on the LAST Month of the Year and the LAST month I will be a Hostess. A HUGE THANK YOU again for making this a wonderful 6 years. I have enjoyed it tremendously!!! It gave me another purpose to enjoy quilting as I do. BLESS YOU ALL!!!!!
I will look forward to joining in on the months ahead. Just need to remember to make early and send early



CONGRATULATIONS go to !!!!!
Oasis - Linda (sending her ANGEL winnings to Flo)
QuiltGram - Velda
TeresaK - Teresa - Yea to ALL of Us!!!!!! I can't wait to see a quilt made from these. 6 of them on my wall look very pretty



****************************************************************
WELCOME to the LAST LOTTO Month of 2018. IT has been a Wonderful Year with a VERY MERRY CHRISTMAS and a HAPPY NEW YEAR just around the corner!!!
As always these are the simple rules:
* Sign-ups to let me know who wants to enjoy making this block if Life Happenings don't get in the way.
* COMMUNICATION as always is the biggest Key. Let everyone know how you are doing. Don't leave the hostess hanging at the end of the month wondering if you were or were not able to make some beauties because there were soooo many parties to go to
* There are NO stupid questions, so please ask away. I know many will be able to answer if I don't see it first.
* Enjoy the journey of anticipation


*****************************************************
Do you remember all those Christmas Strips and 5" blocks we traded last Christmas?? This is a Great Block to use them. We will make a beautiful Easy Christmas Block. I don't know the name of it so I hope some will help me with it. It is easy to make and will make a beautiful quilt.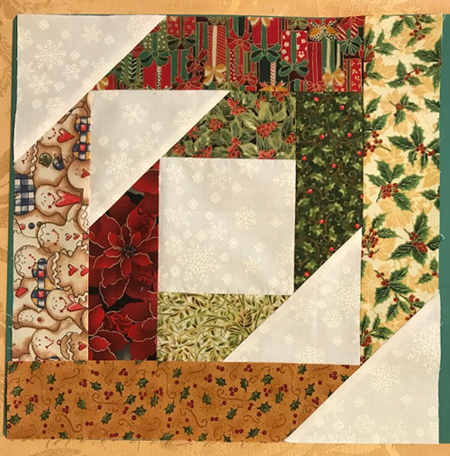 * Make a TEST BLOCK to find your quarter inch seam and MEASURE your 2.5" STRIPS. NO SOLIDS PLEASE. Think Christmas Swirls, snowflakes etc ...
Start with a 4.5" WoW Christmas style square.
Add 2.5" Christmas strips to opposite sides of the square.
Repeat again with the other sides of the square.
Square to 8.5". Do Not Undercut.
Give yourself a few fibers depending on how thick your thread is.
Cut a 5" WoW Square. Fold in half diagonally and fold again. Open it up and place the center of the square on the TIP of the Center Corner. Make sure it is the proper position then begin diagonally stitching checking to see your stitching goes across the tip. See picture.
Repeat for the next set of 2.5" strips and corners.
So - Let's Get Started making some MERRY Blocks.
BEFORE MAILING - - -
* Attach your Address Label PLEASE to the FRONT CORNER
* Place ALL blocks in ONE LARGE BAGGIE.
* PLEASE add $2-$3 to help with Shipping to the WINNERs
DIFFERENT WAYS to RECEIVE your WINNING tickets …
* 1 ticket for each block
* 2 extra tickets - For Each WOF strips
* 3 extra tickets - For Each coordinating FQ
MAILED ————
MePeace - Katy ... 2 blocks, 1 FQ, Pieces of Strips to make 3 blocks
TeresaK - Teresa ... 6 blocks , 2 FQs, 7 Strips
MaryQ - Mary ... 4 blocks, 2 FQs, 7 Strips
Quiltgram8 - Velda ... 5 blocks, 2 FQs
Oasis - Linda S ... 4 blocks
FlorenceM - Flo ... 2 blocks; 2 FQ's