Welcome to the new Quilt in a Day community pages. Please use your old username and password to log in. If you forgot your password, you can reset it from the log in page. If you have questions about how the new board works, try the FAQ link above.
Posts: 9424
Joined: Sun Feb 10, 2013 12:44 pm
Wow beautiful creations ladies love it

Thank God I didnt sign up for this. My life is crazy. Hugs
Izzy

izzy
---
Posts: 7596
Joined: Sat Feb 16, 2008 3:34 pm
I have a story to tell you and am trying to post a picture for the first time using the newer method.
Hi All,
Do you remember Eleanor asking if anyone had a different design for setting the blocks? She asked in either April or May. Well I did. So when I sent her a Birthday card I enclosed a picture. I got a phone call from David, her personal assistant, on July 25th. I missed the call but called him back on July 26th. He asked if he might pick up the quilt top from me, because Eleanor really wanted to see it. She had posted the picture of my quilt on HER Design Wall!! I told him I would be honored to bring it to her. We agreed that on August 14th I would be there for the 1:00 Show. I am really looking forward to the webinar and am quite honored. Carol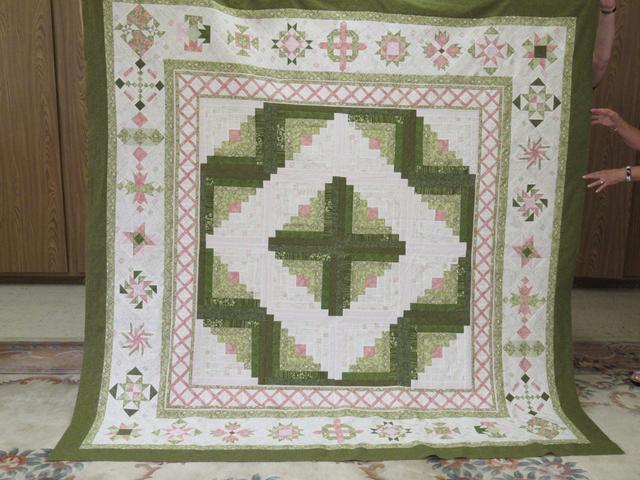 ---
Posts: 30169
Joined: Fri Sep 28, 2007 2:46 pm
my gosh Carol, how exciting. and frankly, I like your layout better. what fun for you.

Hope youre doing well,
Chriss
---
Posts: 13552
Joined: Mon Dec 29, 2008 6:42 pm
Carol - Wow! Love that setting and your creativity! What a honor and I will be watching that show at 1 pm to see and the quilt.
---
Posts: 7596
Joined: Sat Feb 16, 2008 3:34 pm
Thank Jana and Chriss! I feel very honored and humbled.
---
Posts: 792
Joined: Wed Jul 05, 2017 8:47 am
Carol I love what you have done with these blocks. Darn now I may have to try another one.
Katy
---
Posts: 13552
Joined: Mon Dec 29, 2008 6:42 pm
Loved seeing you and the beautiful quilt! Just finished watching the show

Jana
---
Posts: 4452
Joined: Wed Oct 06, 2010 3:16 pm
Wow Carol, you really knocked this one out of the park. How awesome to have El's display your quilt. Congratulations.

Joan
---
Posts: 7596
Joined: Sat Feb 16, 2008 3:34 pm
Thanks Joan and Jana! I am still excited. I did have Eleanor sign my book. She was so much fun.
Carol
---
Posts: 11745
Joined: Sat Jan 13, 2007 10:25 pm
Carol you design is a master piece you did a beautiful JOB
I hope you will enter that in a show.

Thanks for sharing.
Lois
---