THANK YOU EVERYONE who entered this month's Lotto. We definitely CELEBRATED at our best!!! We might have been a small group but we made 20 SPECTACULAR Red, White and Blue blocks in honor of our Independence Day!!!!!
I hope you all have a safe and happy 4th of July!!!
Let's CELEBRATE our WINNERs this month!!!
FlorenceM - Flo and
TeresaK - Teresa - YEA!!!! A HUGE THANK YOU!!!!!
*************************************
Hello Pals - My apologies for the delay in posting this month. It is now time to Play with some Red, Whites and Blues to get ready for July! We will be making some Star Blocks with a HUGE BONUS if you make a 6.5" Block in a Block Star blocks.
All are WELCOME

Sign-ups are a show of interest in hopes that life happenings will allow you some time to join the FUN. This is a place where we LOVE colors, practice stitching and make wonderful blocks for ALL to dream about possibly WINNING. Take your time. Play with your fabrics choices. Choose some great contrasts. Do Not Rush and above ALL HAVE FUN!!!
https://www.quiltinaday.com/freepattern ... ar2012.pdf
Use the 2nd page of this link for the cutting directions to the Star. This also has a sample of what you can make for the center Square. If you choose Appliqued or Embroidery please make as flat as possible.
* FABRICS: Patriotic Reds, Whites and Blues TOT's and Prints
- ALL Star Points please make Blue Tone on Tones or DOMINANT Blue Prints like a Mini Mini Polka Dot for Star points.
- White (Must be WHITE-WHITE) Tone on Tone or a White with a MINI Print is OK for Background. A print like a white with a mini mini blue or red polka dot.
- Patriotic Red, White and Blue Prints
Here are some pictures of Sample blocks I hope you get some inspiration from. Please feel free to use any you like. They will all be 6.5" unfinished blocks that you will then add the Star sections. I'm looking forward to seeing what fabrics you choose!!!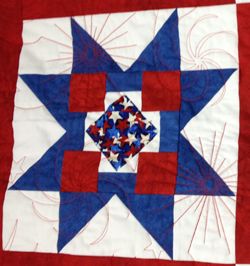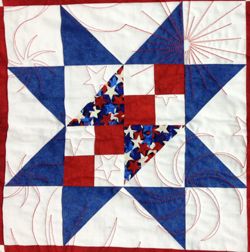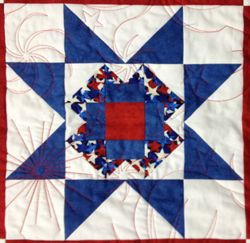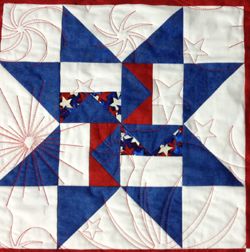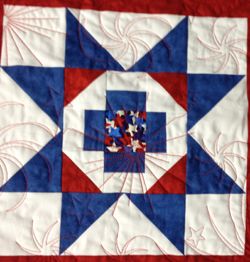 * THIS IS A MUST *** Check Your Measurements to make sure your blocks can be squared to 12.5" BUT DO NOT Square up your blocks.
* PLEASE add your Address Label to the Front Corner of each block
* Place ALL blocks in ONE LARGE BAGGIE.
* Please SEND $2-3 to help with shipping to the winners
WAYS to RECEIVE your WINNING tickets ...
* 1 ticket = Let me know you are interested
* 1 ticket = for every 12.5" Non-Squared up block
* 2 extra tickets = if you make 4 different blocks
* 1 ticket = (optional) story of your first date
* 3 tickets = bring a friend and you both send blocks
HAPPY STITCHING!!!!
TeresaK - Teresa ... 4 blocks
Oasis - Linda S ... 4 blocks
Shelly322002 - Jacquie ... 2 blocks
FlorenceM - Flo ... 4 blocks
Sweetpeadesigns - Linda H ... 6 blocks