What a SPLENDID month April was. Spring definitely came alive!!! You were ALL very creative in choosing your block patterns and your fabrics. These quilts or other creative ideas you make will be DELIGHTFUL and LOVED ALOT!!
The Hand of the Picker has chosen these WINNERs!!!!
Rose92 - Linda
Sweetpeadesigns - Linda H
TeresaK - Teresa
Xochitl - Ysabel
CONGRATULATIONS to you ALL!!! Please enjoy playing and share pictures!!!
I will post pictures of all of the blocks when they all arrive
Hello ALL - I am starting earlier so you have plenty of time to get the creative juices flowing. You will know what I mean as you keep reading. Blocks need to be on my doorstep by the LAST DAY of APRIL - WooHoo - PLAYTIME!!!!!
WELCOME New and Old Lotto Pals!!! I know this month will be FABulously COLORFUL! Can you believe the Easter, the Bunny and April Showers are almost here with May Flowers right behind!! Remember - ENJOY and SHARE anything and everything!!! We learn from each other :)Here are my April Blocks. Stitched up 2 Pinwheels after I posted pictures.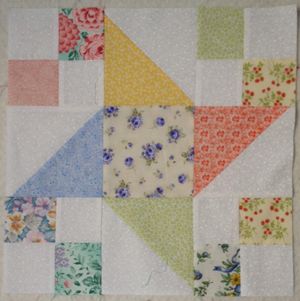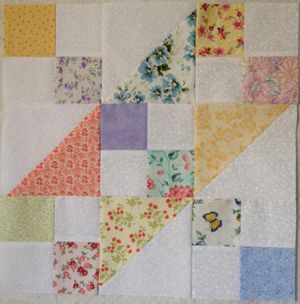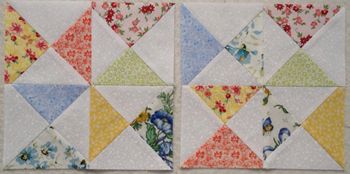 BLOCK INSTRUCTIONS: Always your choice
* BLOCK SIZE: Unfinished size (1)12.5" OR (2)12.5' x 6.5" OR (4)6.5"sq's
PLEASE DO NOT sew the 6.5"sq's or the 12.5"x 6.5" blocks together. This will give the winners more flexibility in arrangement.
* BLOCK: QUILTER'S CHOICE of any Pieced or Applique Block. Some Ideas: Grandmother's Fan, Tulip Block, Dresdan Plate, Butterfly, QIAD Flower Basket, Ladybugs, Birdhouse, Melon shapes, Umbrella's, Quarter Sq 6.5" Triangles, etc... Let your creative Springtime come out and play.
Do Not Overthink this. Google SPRINGTIME for Inspiration and ENJOY!!!!
* FABRICS: ANY Springtime Fabric with Coordinating Colors.
* FABRICS: Background: Any fabric that portraits your block. If you are making an Umbrella then find a fabric that is raining. If you are making Easter Eggs have them sitting on grass with a soft blue sky or a White on White Soft blended "Springtime" Pattern. Your Pieced block can be any QIAD block that uses Springtime Fabrics. Little rabbits, chickies, carrots, flowers, jelly beans. The list goes on


* PLEASE TEST ALL your Fabrics to check for BLEEDING:
BEFORE MAILING---
********* PLEASE DO NOT SQUARE UP YOUR BLOCKs *********
* Place your Name Tag/Address label in the FRONT- UPPER LEFT -CORNER
* Place ALL blocks in ONE Plastic Bag
* Send $2-3 to help with shipping blocks to winners. Any money left over this month will be used to help with the Comfort Quilts.
* ALWAYS MAIL with a TRACKING NUMBER
WAYS to RECEIVE your WINNING tickets ...
* 1 ticket = Let me know if interested early and you send blocks
* 1 ticket = Every 12.5"+ block: Can be all Pieced or all Applique
EXTRA "OPTIONAL" TICKETS
* 2 tickets = If you make combinations of ALL sizes
* 1 ticket = Share about your Favorite Childhood Toy or Doll
* 3 extra tickets if you bring a friend and you both send blocks
ARRIVED
TeresaK - Teresa ... (5)12.5; (4)6.5; (2)12.5x6.5
Oasis - Linda S... (3)12.5; (4)6.5; (1)12.5 x 6.5
Shelly322002 - Jacquie ... (3)12.5; (4)6.5; (4)12.5x6.5
Rose92 - Linda W ... (2)12.5; (8)6.5; (2)12.5x6.5
MEPIECE2 - Katy ... (4)12.5; (4)6.5; (2)12.5x6.5
sweetpeadesigns - Linda H ... (6)12.5; (8)6.5; (4)12.5x6.5
Florence - Flo ... (3)12.5"
Xochitl - Ysabel ... (4)12.5
Scrapyqltr - Mary ... (1)12.5
LET THE SPRINGTIME ROLL ON!!!!