THANK YOU ALL FOR A DELIGHTFUL Beginning of SPRING!! I am excited for all the winners because you everyone stitched some beautiful blocks that will make wonderful quilts to be loved and cherished. What a great group of Cotton Pals we are.
Here are the WINNERS this month ... CONGRATULATIONS!!!!!
* MEPIECE2 - Katy ... 9500 1163 3411 7093 1511 96 Del'v per trkng
* Shelly322002 - Jacquie ... Rec'd
* Purrfect-Lady - Mary ... Rec'd
* Billizzy - Izzy ... Rec'd
* Toekeyotow - Joan ... Rec'd
***** A HUGE THANK YOU TO EVERYONE for your PRAYERS for Rob, Me and Courtney. They were very powerful and evident in some things that were done. You are indeed El's ANGELS!!!!
******************************************
WELCOME New and Old Lotto Pals!!! Time is flying by so quickly and SPRING is UPON US!!! I am thrilled you are all enjoying the block selections so far. I am stepping it up a notch this month and there is very little wiggle room in these blocks so please go slow and steady watching those 1/4" seams and 1/4" seam allowances on the edges to reach a 12.5" block. I have also included different ways for you to make Half Square Triangles - YEA!!! ABOVE ALL - ENJOY and SHARE anything and everything!!! We learned alot from Rick in February about colors. What Scrappy Colors will you use this month???
5 REASONs TO JOIN?? (1)IT IS FUN!! (2)Never any pressure. The choice is always yours as to how many blocks you have time to make (3)It is a great place to practice and get ready to join a Swap (4)It is WONDERFUL TO WIN and/or to see a PAL WIN and be able to make a quilt that will be loved and hugged or used in any way they choose and (5)If you make a block to keep, you will have a Sampler Quilt at the end of the year (6)You can also gift your winning blocks to someone else (Secret Santa in December)


BLOCK INSTRUCTIONS:
* BLOCK: Jacob's Ladder block.
* PLEASE TEST ALL your Fabrics to check for BLEEDING:
* SQUARE: 12.5" Squares: You will need (4.5") Unfinished Half Square Triangles (HST) and (4.5") 4-Patche squares. See picture below for placement of each section plus techniques for options on how to make many HST's from larger squares of fabrics.
You can also locate Eleanor's directions from page 33 in Eleanor's Underground Railroad Book. (Thank you Mary)
* FABRICS: ANY Springtime (Flowers, Leaves, Butterflies, Ladybugs, Birds, etc.) Coordinating Colors.
* FABRICS: Background: White on White Soft blended "Springtime" Pattern.
Here is a picture of the inspiration quilt. Stay away from the darker colors please. What does your Springtime look like??
Here is a picture of Mary's first block. Beautiful! This is also the placement to follow as you put your blocks together. HAPPY SPRING!!
Making 8 Half Square Triangles at one time from 10.25" squares of main fabric and Background fabric laid right sides together. After you make your HST's and 4-Patches then you can mix them up for a Scrappy look. ENJOY!!!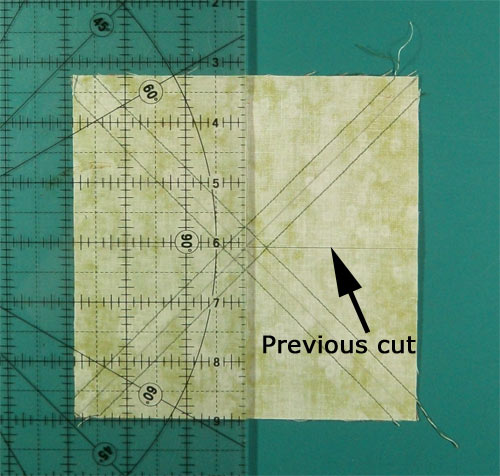 Making 4 HST at one time. Cut fabrics at 7 1/8"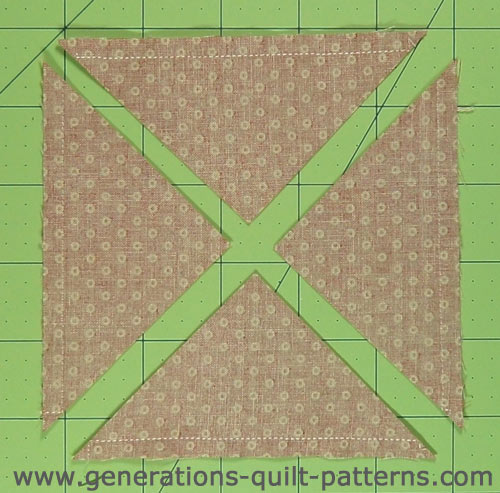 BEFORE MAILING---
* PLEASE DO NOT SQUARE UP YOUR BLOCKs
* Place your Name Tag/Address label in the FRONT- UPPER LEFT -CORNER
* Place ALL blocks in ONE Plastic Bag
* Send $2-3 to help with shipping blocks to winners. Any money left over this month will be used to help with the Comfort Quilts.
* ALWAYS MAIL with a TRACKING NUMBER
WAYS to RECEIVE your WINNING tickets ...
* 1 ticket = Let me know if interested early and you send blocks
* 2 ticket = Every 12.5"+ block
* 3 Tickets = March is a Comfort Quilt Month. Tina has many, many blocks and has put out a request for help in money for Backings, Battings and Mailing. The quilt's fit perfectly in a Medium Flat Rate box. If you choose to help with the journey of a Comfort Quilt please send Tina any amount of Money you choose. Check or Pay Pal. Cash is to risky but again Always your choice. NO Pressure Ever here. It is optional. I don't need to know the amount. Tina will tell me it has arrived and I will add it to your name or anonymously add a ticket into the pot if you choose. Let me know in a PM. If you have any questions in how you can send it, please send her a PM.(Gershwin64)
EXTRA "OPTIONAL" FUN and GETTING TO KNOW YOU TICKETS
* 1 ticket = Last Easter Egg Hunt you went on.
ARRIVED
Rose92 - Linda ... 6 blocks; story; $
Purrfect-Lady - Mary ... 8 blks; story $
QuiltGram8 ... 2 blks; story; $
Billizzy - Izzy ... 3 blocks; story; $
Guyquilt1 - Rick ... 8 blks; story
shelly322002 - Jacquie ... 4 blocks; story; $
TeresaK - Teresa ... 4 blocks; story; $
toekeyotow - Joan ... 7 blocks; story; $
MEPIECE2 - Katy ... 10 blocks; story; $
sweetpeadesigns - Linda H ... 9 blocks; story; $
********************************************************
** Xochitl - Ysabel ... Daughter is in ICU having trouble breathing after giving birth to a serrogate beautiful baby. Please keep her in your prayers.
** FlorenceM - Flo ... Loss of her Father yesterday (3-16) Please keep her in your prayers