Welcome to the new Quilt in a Day community pages. Please use your old username and password to log in. If you forgot your password, you can reset it from the log in page. If you have questions about how the new board works, try the FAQ link above.
Posts: 1680
Joined: Wed Sep 19, 2012 6:56 am
---
Posts: 6550
Joined: Sat Dec 12, 2009 12:32 pm
I don't see any of the pictures you posted.. at my end..
---
Posts: 8665
Joined: Wed Jan 27, 2010 3:56 am
Leah, I can see all the pictures. ... maybe it's your internet?
Tina
---
Posts: 18975
Joined: Thu Aug 30, 2007 5:47 am
Me too, I can see all the pictures posted.
---
Posts: 6089
Joined: Fri Jul 18, 2008 10:46 am
My package came today. My Secret Santa is Marcia. She sent me a wonderful assortment of gifts. There was a mug that is perfect. It's theme; Born to Quilt, a mug rug with a pieced cross, wonder clips, mini clamp light for reading, a small table runner, bowl cozy, wood and lace angel, Halloween socks, Thanksgiving tote, card with kitty on front, and an additional note on doggie note paper.

Thank you Marcia for such wonderful gifts.

Mary/Rosebud

p.s.

I will try to upload/download the pics later. If I can't get it to work, I'll check with Tina to see if she would be able to post them for me.
---
Posts: 1409
Joined: Sat Apr 28, 2007 3:04 pm
my secret santa was velvet aka diane from south carolina. she sure spoiled me w wonderful gifts and lots of little teasers! that priority mail box was packed to the gills and bulging! i received halloween bag and coasters, fall tablerunner and 'blessings' bag, 3 wonderful pattern books, a snowman wall hanging, maxine mugrugs, 4 cuts of fabric including a cool one w cats that i do not have(!), 5 sets of seasonal mugrugs some even w matching coasters,2 beautiful pieced ornaments, a little velcro bag made from cat fabric containing spools of thread, a zipper bsg w frixion pins and skittles! i hope i have remembered everything. i have been truly blessed w treasures this year.thank you diane! (i cant add pics to this site but maybe i can forward to maryq and she can add for me!) marcia
---
Posts: 21682
Joined: Mon Feb 05, 2007 10:04 am
Well, Don is working way into the night so I guess I won't get to post the pix of my Secret Santa booty. Here's a list (it's a big one): a pair of fall socks that are brown with owls on them, a fall kitchen towel, 2 covered safety pins, a fall mug rug, "Happy Camper" pillow pattern, a bunch of beautiful fall charm squares, a Christmas mug rug, 2 pkgs. of Island Batiks charm squares from the Wind and Sea line, a glitzy card, an "I'm Creative" panel, a lighted bug needle threader, self threading needles, purple knit gloves, "Purple Haze" pattern, purple fat quarters and about 5' of purple binding, 17 spools of polyester embroidery thread, an adult coloring book, Pampered Chef cinnamon plus spice blend, and an array of candy including See's hard chocolate suckers, a tube of Lindor carmel chocolate, Girardelli Peppermint Bark, Werther's hard candies, York mini mints and my fave - 4 Almond Joy. Thanks again, Teresa. I dare say that your gifts will the the best I get this Christmas. Now I think I'll have some Peppermint Bark.
---
Posts: 8665
Joined: Wed Jan 27, 2010 3:56 am
Lois was my Santa and boy did she really spoil me! She made me 2 of those bowl things, 6 snowman mug rugs, and a tree skirt! !! Plus sent me a coloring book and colored pencils, a mug and hot chocolate and chocolate candies and red hots and bit of honey candy! ! And sent me a layer cake and 4 of half yard cuts of 30's fabrics and Tis the Season Quilt patterns book! !!! It truly was Christmas for me! ! And a beautiful card! Thank you sooooooooo much for being an awesome Santa, you rock! And my teaser of FQ's and cute card she sent early!
Here's my pix, the boys helped me open it and Preston loved on the tree skirt right out of the wrapping!
2016-12-13_08-32-53
by
t_remondini
, on Flickr
2016-12-13_08-35-16
by
t_remondini
, on Flickr
2016-12-13_08-37-31
by
t_remondini
, on Flickr
2016-12-13_08-40-07
by
t_remondini
, on Flickr
---
Posts: 927
Joined: Thu Apr 12, 2007 3:22 am
My Secret Elf was Katie! She out did herself!
I received the following:
a dish towel embroidered with a snowman (which is too beautiful to use. I will display it)
a Patriotic bag
A stocking embroidered with a D and filled with gadgets like thread, Thread Heaven, measuring tape, a corner square up tool
A lanyard
A Magnetic heart pil holder (now I can stop using the candy dish!)
A chicken pin cushion (the couch thanks you!)
A 6 x 8 rotary mat
A pattern using jelly rolls which I desperately needed
A pattern for a Log Cabin mug rug
The QIAD Crazy Ann Quilt pattern and the Glorified 9 Patch pattern
A mug rug kit
2 beautiful mug rugs (one had a snickers candy!)
A Taste and See Church cookbook which I love because I collect cook books
A cookbook entitled Favorite Recipes of Home Economic Teachers: Desserts, published in 1963
The Olde Farmhouse Quilt book of patterns which fits this old farmhouse!
A mug which says Let It Snow - not great here, but if it is going to snow let it snow and be done!
Snickers and Twix!!!!
9 pices of fabric - FQs plus
And 3 patriotic quilt blocks which I will make into a table runner!
Thank you so very much!!!! I must have been very good this year!! I truly don't know what to say.
Katy may you and your family have a blessed Christmas and may your New Year bring nothing but joy, love, faith, health and peace!!
Deb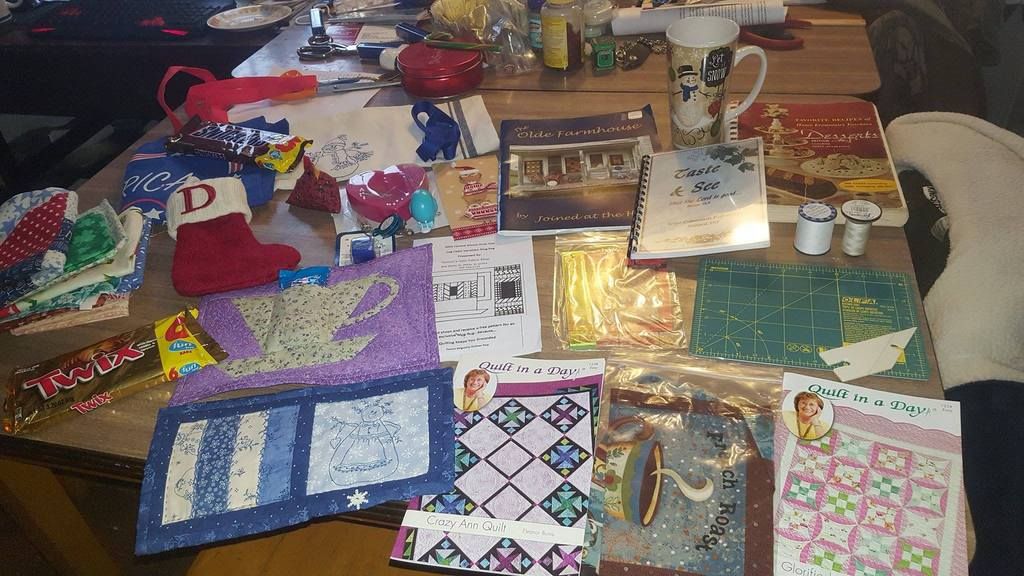 ---
Posts: 1680
Joined: Wed Sep 19, 2012 6:56 am
---