WOW a FALLMAZING we had because of ALL of YOU!!!! Amazing fabrics and colors!!! These blocks will make some amazing Lap quilts or make some more blocks to add to these - Endless posibilities!!!!
**** LOTS of EXTRA and GIFT tickets given out


THANK YOU ALL!!!! CONGRATULATIONs to the LUCKY WINNERS!!!
Gershwin64 - Tina ... 9500 1148 6998 6337 0278 35 - Del'd
Billizzy - Izzy ... 9500 1148 6998 6337 0278 11 - Del'd
PurrfectLady - Mary ... 9500 1148 6998 6337 0278 42
FlorenceM - Flo ... 9500 1148 6998 6337 0278 28
I thought I would start this month EARLY because of ALL the HOLIDAY Sewing you ALL are doing. I sure hope you will be able to join in on the FUN of possibly WINNING!!!!
HELLO EVERYONE and WELCOME to November's Lotto. This is the LAST month you can enter as a Secret Santa. Fall is in Full Bloom and Izzy showed us a wonderful quilt that just has to be made with all those GLORIOUS, BRILLIANT NEW ENGLAND FALL Colors and Fabrics!!
BLOCK: Leaf variation of a Log Cabin/Disappearing 9-Patch
FABRICS/COLORS: STUNNING FALL Golds, Ruso colored plaids as a strip please cut with the lines on the fabric.
BACKGROUND: Fall colored Tans and Creams Tiny Prints or TOT's
SIZE: 10" block ... * DO NOT UNDERCUT your FABRICS
** 6.5" unfinished leaf. HST's - 3" Fall Fabrics with background squares. Draw line down center, sew scant 1/4" on both sides. Cut down line in middle to get 2 HST's. Square up to 2.5".
* 1"x4" brown stem block. Fold brown fabric in half lengthwise. 3" background square. Cut on diagonal. Fold in half. Line up your halfway marks and Sew. Square up.
** ADD... 2.5" strips of any Fall fabric with 2.5"sq GOLD cornerstones. 2.5" strips of any Fall fabric with 2.5"sq GOLD cornerstones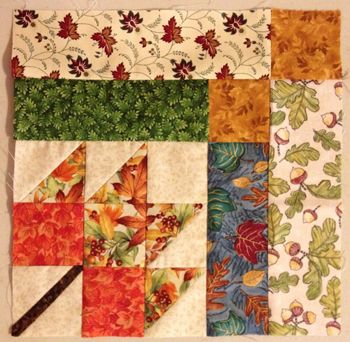 ** SECRET SANTA's - November is the LAST month you can join for your ELF to receive any WINNING BLOCKS. If you are a WINNER I will mail the blocks directly to her. If you want to be kept anonomous until the Opening Day, please send me a PM to keep your name off the list and to keep in contact. Please also tell me where to mail them.
BEFORE MAILING---
* PLEASE, PLEASE DO NOT SQUARE UP YOUR BLOCKs
* Place your Name Tag/Address label in the FRONT UPPER LEFT CORNER - (SS's tag yours with Secret Santa)
* Place ALL blocks in ONE Plastic Bag
* Send $2-$3 to help send blocks to winners, please
* ALWAYS MAIL with a TRACKING NUMBER
WAYS to RECEIVE your WINNING tickets ...
* 1 ticket = Let me know if you are interested early / you send blocks
* 1 ticket = for every 10"+ blocks
* 1 ticket = if your blocks reach me by the 28th
* 1 ticket = if you AND your Elf send blocks

Ask Mary to tell me
OPTIONAL:
* 1 ticket = What FALL Quilt(s) have you made for you or a Loved One
ENJOY THE JOURNEY of MAKING GREAT BLOCKS for your LOTTO PALS
RECEIVED - -
Oasis - Linda ... 4 blocks
Purrfect-Lady - Mary ... 8 blocks; FM
Wesignificant - Valerie ... 4 blocks; FM
Billizzy - Izzy ... 6 blocks; FM
TeresaK - Teresa ... 4 blocks; FM
Gershwin64 - Tina ... 7 blocks; FM
Quiltgram - Velda ... 3 blocks; FM
FlorenceM - Flo ... 6 blocks; FM
Prairiewillow - Sonya ... 5 blocks; FM
CREATIONS are being STITCHED TOGETHER
Maybe Caroline??? No word - maybe next month