Welcome to the new Quilt in a Day community pages. Please use your old username and password to log in. If you forgot your password, you can reset it from the log in page. If you have questions about how the new board works, try the FAQ link above.
Posts: 10285
Joined: Wed Jan 27, 2010 3:56 am
Here's Barney. ❤❤❤
You do not have the required permissions to view the files attached to this post.
---
Posts: 12720
Joined: Sat Jan 13, 2007 10:25 pm
He looks like my grandson Dog Jack.
---
Posts: 22009
Joined: Mon Jul 07, 2008 4:01 am
KATY - I'm so glad you liked your gifts! It was fun designing your placemats. Good thing I love Halloween sewing! And Barney is A D O R A B L E!!! Thank you for the picture of him. He's a bit of a camera hog, isn't he.
---
Posts: 6136
Joined: Mon Jul 16, 2007 5:36 pm
Barney is adorable! So CUTE!
---
Posts: 18123
Joined: Sat Jan 06, 2007 6:58 pm
Lori

---
Posts: 4738
Joined: Sun Feb 10, 2008 5:21 am
To my SS...I got a late start Friday to get to our campground, so I didn't get to my PMB(personal mail box). I will be there first thing Saturday. I'm so excited to get my box
I guess if I had time I could cross check who got what from who and narrow down my Santa, but ain't had that kinda time.
We are parked in our winter spot. I had to run to the store after set up and past a half dozen friends having Happy Hour. They yelled and I stopped for hugs and hellos. It's nice to be home.
Lyn
---
Posts: 10285
Joined: Wed Jan 27, 2010 3:56 am
Glad to hear you arrived safe Lyn! You were up late last night. I'm looking forward to seeing who your SS is too
Tina
---
Posts: 12780
Joined: Thu Jan 25, 2007 5:43 pm
Uhm, Tina I would have thought you already knew who her SS was? LOL. it seems to me we are still missing some elves?
A Friend is God's way of making sure we never walk alone!
---
Posts: 10285
Joined: Wed Jan 27, 2010 3:56 am
LOL, do I Valerie? Hmmm
Yep, still need to hear from 2 elf's.
Tina
---
Posts: 4738
Joined: Sun Feb 10, 2008 5:21 am
Oh Boy, Oh Boy, Valerie is my Santa
Thank you so Much, Valerie, for all the neat stuff.
She made 2 rectangle table toppers, 6 fabulous placemats, I love the colors and fabrics!! She made a scissor holder, a pin pillow and a pouch for other tools. There's a cute pouch that has 2 FQ's, needles, some Christmas tags, & a needle threader. There's magnetic page flags & binder clips, a clipboard with notepad and 3 patterns. And last but not least, the most beautiful bookmarker I have ever seen, truly a treasure
It has a gold leaf, a chain that has a butterfly and on the end a little ball with purple crystals and a tiny flower. I'm going to be grabbing one of the books I want to read, so I can use it.
Valerie, you are a wonderful Santa,
thank you so much
Lyn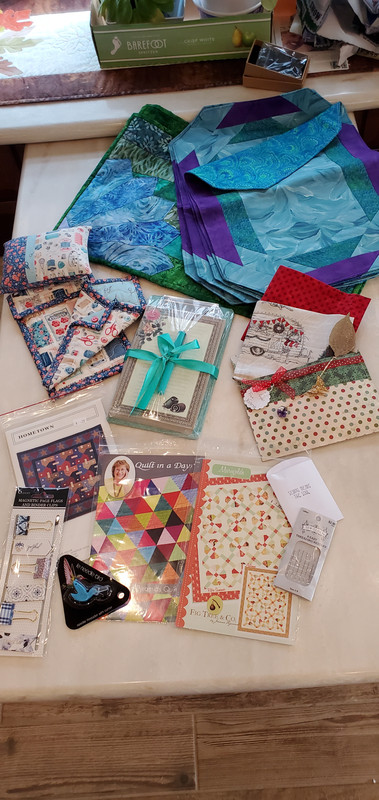 ---