After much thought and hoping more would join with no results I have decided to CANCELLED this month. With 2 SWAPS happening back to back I see many are very busy with this and life happenings.
I hope to see you next month. Until then ... HAPPY STITCHING!!!!
****************************************************************************************************************************
Welcome everyone. Thank you for checking out this months Lotto. Yes you see right and it is all Maryz's and Katy's IDEA!!!! You see Katy sent me QIAD's Pumpkin Grins and I LOVE IT! Then Maryz decided it was time to have a Halloween Swap. Now I know many do not care for the Halloween Swap BUT who can pass up stitching some FUN PUMPKINS and having the quilt(s) possible stitched together for this year's Fall season!! So I sure hope you will join us in stitching up LOTS of FUN different kinds of PUMPKINS!!!!
Sooooo here is my thinking -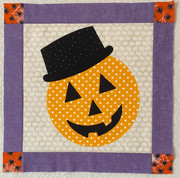 [/img]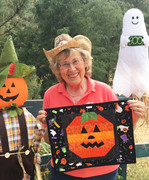 #1: Make at least (1) QIAD "Pumpkin Grins" block - -
the pumpkin starts with (5) 2.5" strips sewn together
cut into a 10.5"sq. Add 3" squares to these corners, sew diagonal to make your Pumpkin take its shape, then once again for HST's
Black Bkgd for outside edges and 3" Corners of the Center Sq. - - Can be a small print or a TOT for character.
,
Add 10.5"x 2.25" strips to all sides.
#2 Choose ANY Style Pumpkin Block - There are so many to choose from on Google
FALL Prints and TOT's
Tan/Creamish Fall background
10.5"sq center -
Add 2.25" TOT sashings with a Print Corner stone.
I hope I explained it well enough that you get my thinking. When you put these two together they will look WOWsers!!! LET YOUR CREATIVITY and INSTINCTS FLOW. THINK FALL and feel free to ask questions. FB me for a quicker answer
OH WAIT - The TWIST!!! SECRET SANTA is just around the corner so I am starting early. It sure would be FUN to gift these blocks to your ELF or do I have it backwards. If you want to do this PM me. I will not add your name to the list. I will keep it a secret



MAILING - - - - Please PM me if you DO NOT have my ADDRESS
* Attach your name label to the upper FRONT corner of EACH block pinned or stitched on the corner.
* Send ALL blocks in one baggie KEEPING the SET of 2 together, please
* Mail blocks with a TRACKING # as soon as possible.
* For every month please send $2-3 to help send the WINNING Blocks to the WINNERs - YEA!!!
WAYS TO EARN TICKETS - - - - -
* 1 ticket = Sign-up anytime to show your interest
* 1 ticket = for each QIAD block.
* 1 ticket = for each ANY Fall Pumpkin block.
* 1 ticket = for each set of 4 HSTs (for a winner to make into a Table Topper)
* 1 ticket = if your NAME is on the FRONT top corner of the block or the set of blocks
* 1 ticket = if you have added money to your bag. (Please remember to do this as Kitty is very LOW)
TeresaK - Teresa ... 2 so far
MePeace2 - Katy ...