Welcome everyone to May Flowers Lotto Month!! I told you that April showers bring May Flowers and I hope I did not disappoint anyone. I Love this block. It's an easy one but watch out for ending 1/4" seam allowances and scant stitching first. Please make a sample first to get your measurements right. Trim each section carefully giving you a 12.5" block with beautiful 1/4" seams at the end. I do hope you all enjoy the Block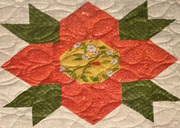 3 different sections of 4.5" unfinished. Do not undercut your sections or you won't get a 12.5" sq.
FABRICS: Flowers and Coordinating Fabrics; Please No Solids. Prints are more festive for Springtime
BACKGROUND: Soft White on White
SIZE: 12.5" Sq (Not a forgiving block so please cut a bit bigger (use Scant .25" first on your sample please)
CENTER SIDE sections:
Cut (4) 4.5/8" Flower fabric. Sew a 2.5/8" Sq. of Bkgd fabric to each corner. Trim evenly to 4.5"
CORNER LEAF sections:
Cut (4) 2.5"sq's each of Leaf and Bkgd fabrics
Cut (2) 3"sqs, draw line down each center, stitch Semi Scant on opposite sides leaving big enough seams on each side when you cut down center, open and iron to the dark side to make (4) 2.5" HSTs
TIP: Cut 4.5"sq of Bkgd and Flower fabrics, right sides together; sew scant 1/4" seam around the edge and cut diagonally to get (4) HSTs for the whole block.
Stitch sections together. Trim to 4.5"sq.
Be back with #
CENTER FLOWER section:
Cut (4) 4 5/8"sqs of Bkgd fabric; Cut (4) 2" flower fabric. Sew to corners. Trim evenly to 4.5"sq
See picture for placement and fabric changes for 2nd block. You do not have to use the same Flower fabric as in 1st block, only if you have some, but I would like the center to be Flowers with coordinating SPRINGTIME fabrics
MAILING - - - - Please PM me if you DO NOT have my ADDRESS
* Attach your name label to the upper FRONT corner of EACH block pinned or stitched on the corner.
* Send ALL blocks in one baggie
* Mail blocks with a TRACKING # as soon as possible.
* For every month could you please send $2-3 to help send the WINNING Blocks. Your judgement call on how much depend on how many blocks you make and how much you want to WIN


WAYS TO EARN TICKETS - - - - -
* 1 ticket = Sign-up anytime to show your interest
* 1 ticket = for each 12.5" block you send
* 1 ticket = if your NAME is on the FRONT top corner of the block or the set of blocks
* 1 ticket = if you have added money to your bag. (Please remember to do this as Kitty is very LOW)
MAILED
QuiltGram8 - Velda ... Velda ... 2 blocks + picture
Still WORKS in PROGRESS
TeresaK - Teresa ... 2 blocks so far
HOPING THEY MIGHT JOIN
WeSignificant - Valerie
Billizy - Izzy