Welcome to the new Quilt in a Day community pages. Please use your old username and password to log in. If you forgot your password, you can reset it from the log in page. If you have questions about how the new board works, try the FAQ link above.
Posts: 1
Joined: Sat Dec 21, 2013 4:32 pm
Hi Caroline, I made this and it was great but please let everyone know that cotton thread MUST be used. I used polyester thread and tested it out in my microwave and ended up with a fire in the microwave! Of course I was able to put out the fire but it destroyed my microwave. Now I have to buy a new microwave. Ignorance is not bliss!!!! Anyway I am interested in buying the rule that you show in the photo making darts. Can you please tell me the name of the ruler and/or where I may purchase one? I do a lot of sewing clothes with darts in them and I think the ruler would be great to use. Thank you.
---
Posts: 3019
Joined: Mon Oct 12, 2009 8:33 am
---
Posts: 1
Joined: Mon Dec 30, 2013 1:50 pm
This was a great tutorial for such a useful product! I made a couple for my home and am thinking about making some to fit those microwave soup containers that are so tricky to get out of the microwave. The photo below shows how mine turned out. I posted this on my facebook page and had comments within moments! Again, thanks!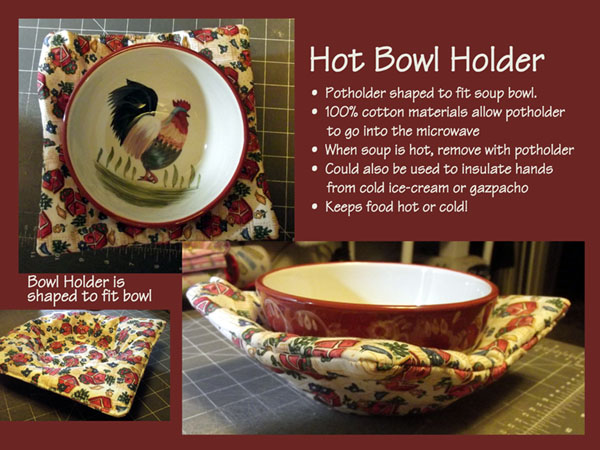 ---
Posts: 6070
Joined: Thu Sep 06, 2012 11:52 am
I am shocked that polyester thread would cause a fire?????
I made three of the bowls. On one of them, I didn't measure the darts correctly and the bowl doesn't look right. Take time to measure and not guess at it.

Happy New Year. Still curious about the polyester thread. Hmmmmmm! interesting and so sorry to hear it did so much damage.

Velda
---
Posts: 1185
Joined: Sat Dec 27, 2008 2:38 am
well I always love new things to sew. We'll see if we can do this one. thanks for all the tips also
---
Posts: 6128
Joined: Fri Jul 18, 2008 10:46 am
---
Posts: 178
Joined: Mon Dec 01, 2014 9:23 am
Thanks for bumping it Rosebud!
---
Posts: 2044
Joined: Thu Mar 06, 2014 11:22 am
Thanks Caroline, how did you know I really needed this pattern......lol.......burned my hands on a hot bowl this morning.......



Joyce
---
Posts: 12019
Joined: Sat Jul 04, 2009 12:18 pm
---