Welcome to the new Quilt in a Day community pages. Please use your old username and password to log in. If you forgot your password, you can reset it from the log in page. If you have questions about how the new board works, try the FAQ link above.
Posts: 9901
Joined: Wed Dec 20, 2006 11:16 am
Thank you all who participated in this project. I have finished the quilt top and the label. Tomorrow I will drop it off at the LA to finish. As soon as she gets it back to me, I will send it off to astitchintime to send it to Renee. The quilt really turned out nice! I love all the stars! You all did a great job! Thank you!
---
Posts: 1746
Joined: Tue Nov 27, 2007 3:25 am
Can't wait to see it, Linda! Thanks for the updates.
---
Posts: 5119
Joined: Wed Apr 02, 2008 8:50 am
Linda-

Pictures??? Pretty please...

Vic
---
Posts: 9901
Joined: Wed Dec 20, 2006 11:16 am
Here is Renee's quilt. You all did a great job on the stars! I used purple for the lattice and backed the quilt in purple Minkee. The LA echoed the "bubble" border in her quilting. Unfortunately, the purple doesn't show up good in the pictures. Thanks to all who helped with this quilt. I will mail it to astitchintime tomorrow to give to Renee.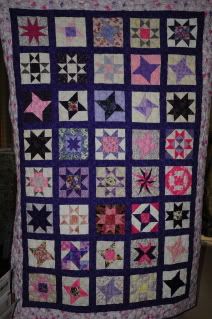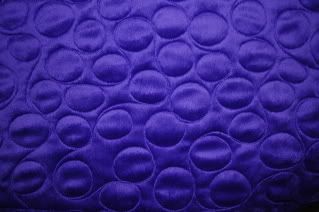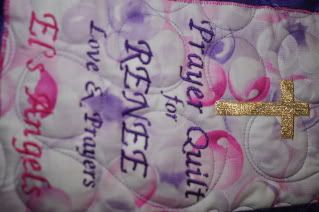 ---
Posts: 19035
Joined: Thu Aug 30, 2007 5:47 am
Oh! Linda! It's beautiful! you did a great job putting it together and all!

Thank you for having done this project! I'm sure Renee will love it!

Love & hugs

Denise
---
Posts: 2063
Joined: Sat Dec 08, 2007 1:34 pm
Linda this is absolutely beautiful! You used the perfect colors to sash and back it with. I am so proud to have been part of this project. I sure hope it brings lots of love and comfort to Renee.

Rhonda
---
Posts: 30117
Joined: Fri Sep 28, 2007 2:46 pm
wow, it is just beautiful...

Chriss
---
Posts: 6101
Joined: Sun Aug 19, 2007 3:47 pm
That is beautiful, Renee will be so pleased to receive this. May it bring her much comfort.
---
Posts: 5119
Joined: Wed Apr 02, 2008 8:50 am
It is so beautiful. I hope it gives her comfort.

Vicky
---
Posts: 11061
Joined: Thu Jan 25, 2007 5:43 pm
Very nice. Is there a way to make the pic bigger for those of us who can't see well.
Have a great day! Valerie
---