Welcome to the new Quilt in a Day community pages. Please use your old username and password to log in. If you forgot your password, you can reset it from the log in page. If you have questions about how the new board works, try the FAQ link above.
Posts: 29865
Joined: Fri Sep 28, 2007 2:46 pm
[/img]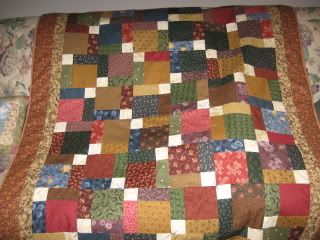 ---
Posts: 7335
Joined: Mon May 12, 2008 5:38 am
Chriss, I love these quilts! It's such a simple pattern and I've never made one...you have inspired me to get on the stick and make one of these! They are both so pretty!

Joanne
---
Posts: 16782
Joined: Sat Jan 06, 2007 6:58 pm
very nice quilts.
Lori

---
Posts: 1706
Joined: Tue Jan 23, 2007 3:28 pm
Very pretty. I love the tossed 9 patch. It is almost as versatile as the log cabin. I especially like the one in the darker colors.

Thanks for sharing your work.
---