Welcome to the new Quilt in a Day community pages. Please use your old username and password to log in. If you forgot your password, you can reset it from the log in page. If you have questions about how the new board works, try the FAQ link above.
Posts: 13601
Joined: Sun May 25, 2008 2:54 am
I made this quilt with the True Blue fabric line and gave it as a gift, My neighbor loved it it was beautiful,,,,
---
Posts: 9253
Joined: Fri Jan 05, 2007 9:59 am
[/img]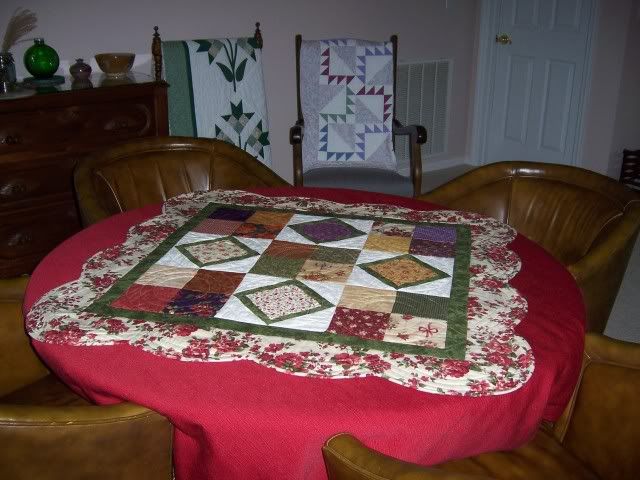 ---
Posts: 9426
Joined: Fri Jan 05, 2007 5:25 pm
---
Posts: 6550
Joined: Sat Dec 12, 2009 12:32 pm
I could picture this on a glass top table..It would look million bucks...Say, I have a glass table...???

Unless, you could share some instructions, could this be a challenge for me, the rookie quilter? Gladly send you return stamp for this pattern.

Drop me a line if need my address, Yeah?
---
Posts: 9253
Joined: Fri Jan 05, 2007 9:59 am
Now, how in the world did these photos get on this post?? I posted them separately!! Photobucket has really been confusing me lately! Sorry, grammie!
---
Posts: 1600
Joined: Sat Aug 11, 2007 8:22 am
Very nice, I love the colors.
---